Flavors
According to IDFA's 2022 Ice Cream & Frozen Novelty Trends Survey, chocolate is America's flavor of choice in ice cream, followed closely by Cookies N' Cream and Vanilla.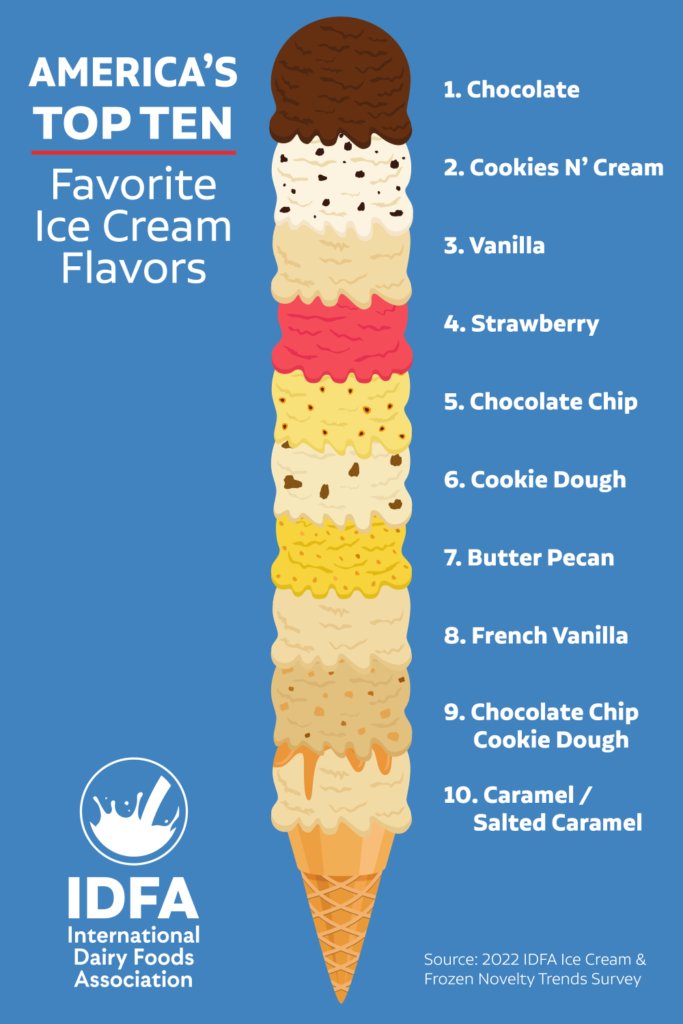 America's top 10 favorite ice cream flavors:

Chocolate
Cookies N' Cream
Vanilla
Strawberry
Chocolate Chip
Cookie Dough
Butter Pecan
Chocolate Chip Cookie Dough
Caramel / Salted Caramel
However, ice cream flavors are only limited by the imagination. Manufacturers, scoop shops and chefs constantly come up with new and exciting flavors for their customers.
Here are a few:
Chile Lime Mango
Nutella Cookie Crunch
Coffee Caramel Crunch
Lemon Poppy Seed
Earl Grey Raspberry Stracciatella
Exhausted Parent
Saffron
New Product Trends
While the majority of ice cream sales have long been regular-fat products, ice cream manufacturers continue to diversify their lines of frozen desserts in order to fit into various lifestyles.
Respondents in IDFA's 2022 survey of ice cream makers and retailers identified six top trends guiding their product development efforts:

Nostalgic and comforting
Gourmet and indulgent
Demand for plant-based and/or non-dairy ingredients
Clean labeling
Convenience or on-the-go
Natural products
Health and wellness products
Consumers still look for an indulgence when eating ice cream. Therefore, ice cream manufacturers make sure to offer a full selection of premium and super-premium products in innovative flavors and with such mix-ins as cookies, brownies, candies and cake.
Innovation and Technology
The winning ice cream products in IDFA's annual Innovative Ice Cream Flavor Competition in 2022 were Purple Daze by The Ice Cream Club Inc., Strawberry Cheesecake Twist Cone by Wells Enterprises Inc., and Monkey Bread from Hudsonville Ice Cream. But don't go looking for Monkey Bread just yet. It's a prototype, and we hope it hits shelves soon.