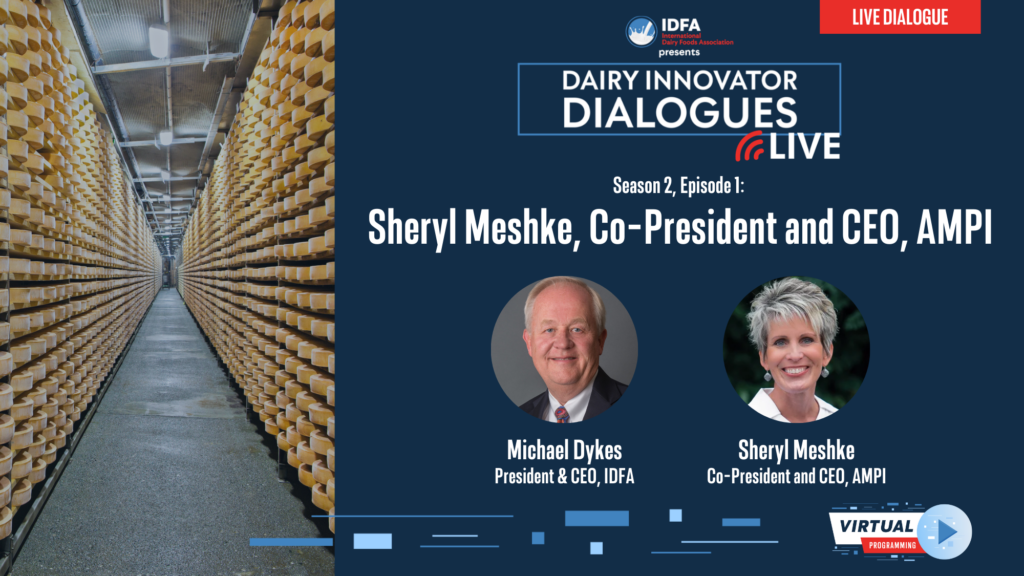 Dairy Innovator Dialogues LIVE returned for a special session with Sheryl Meshke, Co-President and CEO of Associated Milk Producers Inc. (AMPI).
Sheryl Meshke and IDFA President and CEO Michael Dykes sat down for a 60-minute, interactive discussion on AMPI's growth story, the cooperative's view on stewardship and social responsibility, and where Meshke sees potential in product formulation, packaging and marketing.
Sheryl Meshke was appointed as co-president and CEO in 2014, previously serving the cooperative as the senior executive vice president charged with establishing strategic initiatives aimed at strengthening the performance and value of the Midwest dairy cooperative with nearly $2 billion in annual sales. Throughout her 30-year career she has held numerous positions in the company, responsible for strategic planning, public affairs, human resources and communications. Meshke holds a bachelor's degree in agriculture from South Dakota State University and a master's degree in business from the University of St. Thomas. She is a fifth-generation farmer, operating a hog and sheep farm near Lake Crystal, Minn., with her husband Blake Meshke, son Brent and his wife Leslie. Another son Derek and his wife Tori live in Brookings, S.D.
Featuring
Hosted By