IDFA members can view "Dairy Innovator Dialogues Live - Episode 5: Siobhan Talbot, Managing Director, Glanbia". If you are a member and can not see the video and slides below, please refresh your session by logging out and logging back in to the IDFA website via the red button in the top right corner of your screen.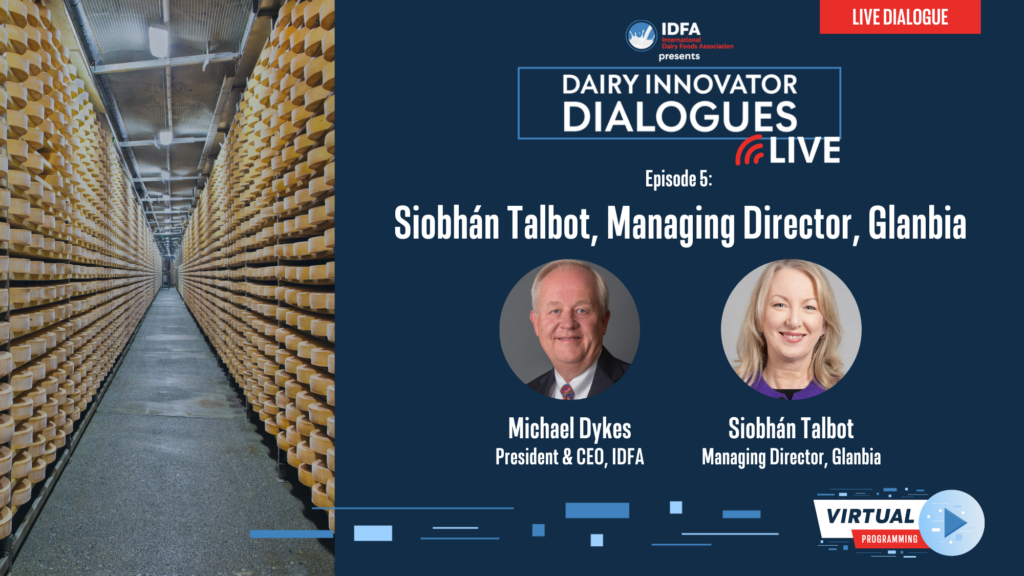 Dairy Innovator Dialogues is back with a special, live question and answer session with Siobhán Talbot, Group Managing Director of Glanbia.
Siobhán joined IDFA President and CEO Michael Dykes for a 60-minute, interactive discussion on Glanbia's growth journey as well as her perspective on the dairy industry's global outlook, its resilience, and its response to COVID-19. Siobhán also described Glanbia's investment for growth and how it is building an empowered workforce to prepare for dairy's bright future.
Siobhán Talbot was appointed as Group Managing Director of Glanbia in November 2013. She was previously Group Finance Director and her role encompassed responsibility for Group strategic planning. She has been a member of Glanbia's Group Operating Executive since 2000 and the Board since 2009 and has held a number of senior positions since she joined the Group in 1992. She is also a Director of the Irish Business Employers' Confederation (IBEC) and was appointed as a Non-Executive Director of CRH plc effective 1 December 2018. Prior to joining Glanbia, she worked with PricewaterhouseCoopers in Dublin and Sydney. A fellow of Chartered Accountants Ireland, Siobhán graduated from University College Dublin with a Bachelor of Commerce and Diploma in Professional Accounting.
Featuring
Hosted By