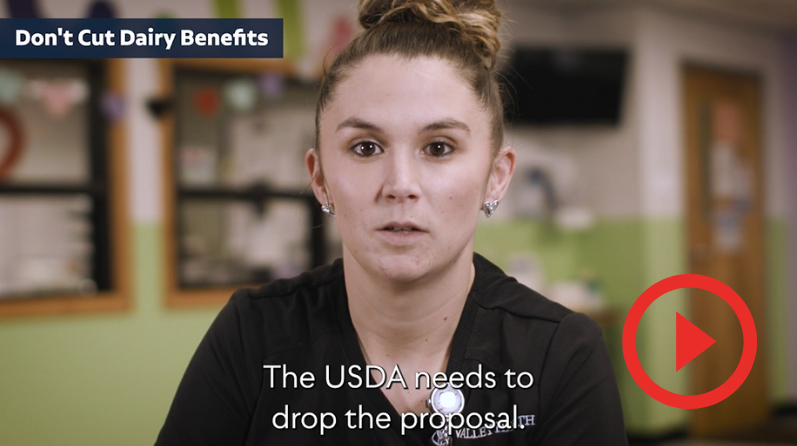 IDFA brings to light how USDA's proposed cuts to WIC dairy benefits will negatively impact 6 million women, infants and children
WASHINGTON, Feb. 21, 2023—The International Dairy Foods Association (IDFA) is working to prevent the U.S. Department of Agriculture (USDA) from making drastic cuts in benefits to the 6 million mothers and children participating in the Special Supplemental Nutrition Program for Women, Infants, and Children, or WIC. As part of ongoing efforts to preserve WIC dairy benefits, IDFA spoke with mother Brittany Oxley, a WIC participant from Charleston, W.Va., who also works as a medical assistant helping mothers and children in the WIC program. Brittany, a mother of two, said, "Most mothers that I work with are actually just in the program for the milk. They rely on this every month. … That would be hard to explain to a mother why they cut the milk. … I work with WIC moms and children every single day, and to do something like this makes no sense." Brittany ends her comments with a plea to USDA to drop the proposed cuts to WIC dairy benefits.
To see the full interview with Brittany, visit www.idfa.org/wiccuts.
"This proposal by USDA puts low-income mothers and children at risk of losing access to critical nutrients at a time when the cost of food is a major challenge for families," said Michael Dykes, D.V.M., president and CEO of IDFA. "USDA's proposal ignores its own federal Dietary Guidelines, which says 90% of Americans are not consuming enough dairy to meet daily requirements. USDA must reverse course and find ways to improve program participation by encouraging the purchase of nutritious milk and dairy rather than penalizing low-income moms and families during tough economic times."
IDFA is also taking this message directly to policymakers at USDA through a weeklong advertising campaign in Politico's Morning Agriculture newsletter and online community. In that campaign, IDFA asks readers to learn about USDA's plans to cut dairy benefits in WIC and the cost to women, infants, and children. To view the campaign, visit Politico.com.  
More than 6 million low-income mothers and children, including an estimated 43% of all infants in the United States rely on WIC. The WIC program provides electronic vouchers to mothers to buy specific types of foods and beverages that are high in the kinds of vitamins and nutrients moms and young children need for growth and development at the critical life stages. Dairy products like milk, yogurt, and cheese play a central role in the program, ensuring participants get 13 essential nutrients--including three of the four nutrients of public health concern as noted by the Dietary Guidelines for Americans (DGA).
Yet in November, USDA proposed to cut the amount of milk and dairy provided to WIC moms and children. For example, for a pregnant WIC mother with two children under 5 years of age, the proposal would remove the equivalent of up to 3 gallons or more of milk per month, depending on the participant. USDA's proposal directly conflicts with the latest DGA report, which highlights that nearly 90 percent of Americans do not consume enough dairy to meet dietary recommendations.
According to a recent IDFA-Morning Consult poll (available here), a staggering 20% of WIC participants would choose not to re-enroll in the program should USDA follow through with the cuts to milk and dairy benefits. An additional one-third (34%) were unsure if they would re-enroll in the program following the proposed cuts. Three-in-four WIC parents (76%) said they are concerned with the USDA proposal. One-third (35%) say they will need to use non-WIC funds to cover purchases of milk and dairy. Another quarter (26%) of participants say the reduction will make their shopping for milk and dairy products harder.
IDFA, on behalf of dairy foods makers, submitted formal comments today urging USDA not to make these cuts and, instead, to maintain the current level of WIC dairy benefits when they finalize their WIC rule. To read IDFA's comments, click here.
IDFA is also encouraging members and concerned individuals and organizations to join us in sharing our concerns directly with USDA. You Importantly, we ask that you personalize the comments by inserting your information to the top of the comments. To take action, visit the IDFA Campaign Center at www.idfa.org/wiccuts.
# # #
The International Dairy Foods Association (IDFA), Washington, D.C., represents the nation's dairy manufacturing and marketing industry, which supports more than 3.3 million jobs that generate $41.6 billion in direct wages and $753 billion in overall economic impact. IDFA's diverse membership ranges from multinational organizations to single-plant companies, from dairy companies and cooperatives to food retailers and suppliers, all on the cutting edge of innovation and sustainable business practices. Together, they represent 90 percent of the milk, cheese, ice cream, yogurt and cultured products, and dairy ingredients produced and marketed in the United States and sold throughout the world. Delicious, safe and nutritious, dairy foods offer unparalleled health and consumer benefits to people of all ages.