Read the latest issue of The Dairy Bar, a bi-weekly report from IDFA partner Ever.Ag. The Dairy Bar features spotlight data, key policy updates, and a one-minute video that covers timely topics for the dairy industry.
The Dairy Bar: Major Retailers Offer Holiday Meal Bundles; Cottage Cheese Makes a Comeback; and State of the American Consumer in a Minute!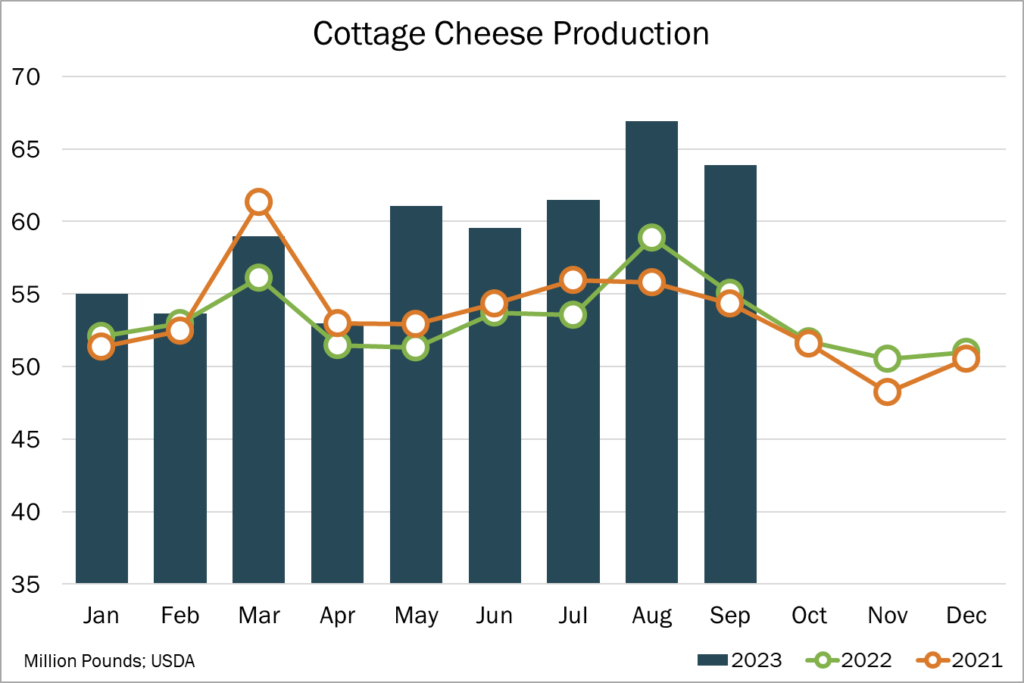 Quick Bites: Cottage Cheese Comeback
Cottage cheese, a diet fad food of the 1970s, is making a comeback thanks in large part to social media trends. With influencers adding the curds to ice cream, pancakes and pasta, retail cottage cheese sales jumped past $1 billion in May and are expected to remain robust through the end of the year.
Manufacturers are working hard to keep up with increased demand. Through September, cottage cheese production reached 534 million pounds, up 10% year-over-year, per USDA's latest Dairy Products report.
With plenty of demand, retailers are keeping promotional activity relatively stable. In October, an average of 2,776 stores ran advertisements for 16-ounce tubs of conventional cottage cheese. That was on par with 2,780 outlets during the same time last year. Prices have also held relatively steady, at $2.46 in October 2023, compared to $2.43 during the same period in 2022.
Today's Special
As inflation takes its toll on grocery budgets, major retailers are stepping up Thanksgiving promotions to make the upcoming holiday a bit more affordable.
In a recent survey, Walmart found 92% of its customers are concerned about higher food costs. As a result, the big-box retailer plans to offer a Thanksgiving bundle that will include enough ingredients to feed up to 10 people – at a cost around $2 less than 2022. Target will also sell a similar holiday basket that feeds four, for $25. Meanwhile, Aldi will provide 50% savings on 70 Thanksgiving items, with deals lasting through December.
Consumers will also pay less for turkeys this year after a drop in avian flu helped boost this year's bird population by 2%-3% in July alone. The extra supply is weighing on prices, which now average $1.47 per pound, down 9% from October 2022. Shoppers are expected to pick up more birds in response, with the American Farm Bureau Federation projecting a 6% increase in demand this year to about 15.5 pounds of turkey per person.
But with food prices up 3.7% from last September, shoppers will pay more for other Thanksgiving staples. Per data from Wells Fargo, ham prices reached an all-time high in September at $4.56 per pound, up 5% year-over-year. The cost of potatoes (+2.7%), canned pumpkins (+30%) and canned green beans (+9%) are also higher.
Something Sweet: State of the American Consumer in a Minute