Read the latest issue of The Dairy Bar, a bi-weekly report from IDFA partner Ever.Ag. The Dairy Bar features spotlight data, key policy updates, and a one-minute video that covers timely topics for the dairy industry.
The Dairy Bar: Inflation Hinders Labor Day Spending; Mexico Buying More U.S. Dairy; and Passport to New Zealand!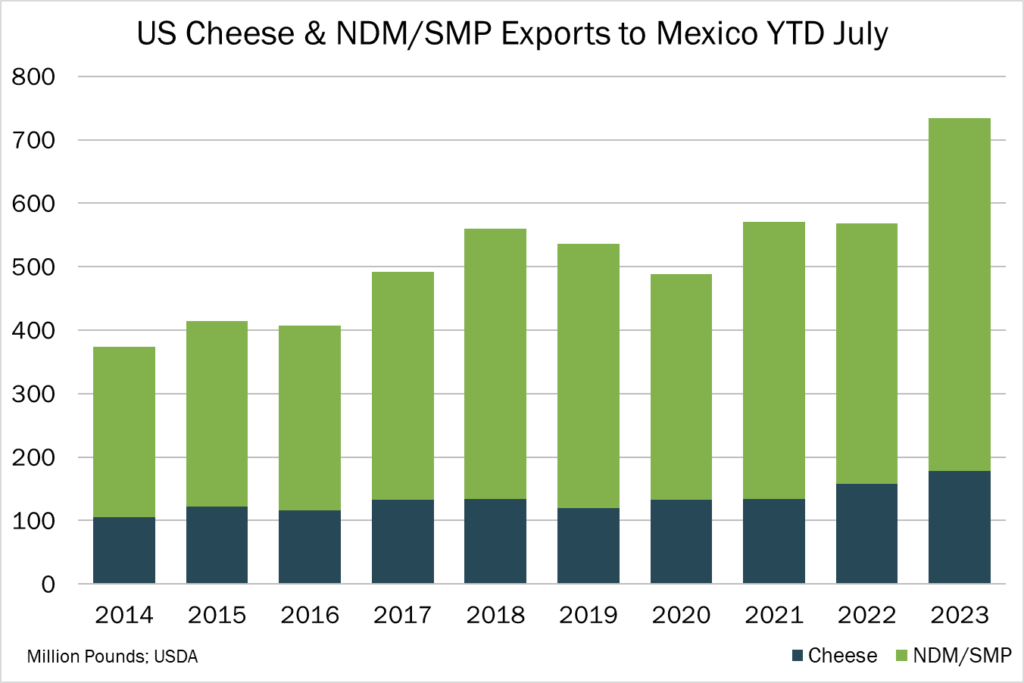 Quick Bites: Mexico Buying More U.S. Dairy
With drought conditions reportedly hurting output in Mexico, the country is importing more milk powder – and much of the volume is coming from the U.S. Shipments of SMP and NDM from the U.S. to Mexico reached a record high of 93.5 million pounds in March. Though volumes have since moderated, July exports of 63.1 million pounds remained 14% above prior-year levels, and comprised nearly 44% of total U.S. NDM/SMP sales for the month. Shipments added up to 556 million pounds year-to-date through July, up 36% compared to the same period in 2022.
The U.S. is also exporting a significant amount of cheese and whey to its southern neighbor. Mexico purchased 26.5 million pounds of cheese from the U.S. in July, up roughly 6% year-over-year, and 1.8 million pounds of whey, relatively in line with last year's levels. Through July, U.S. cheese exports totaled 178 million pounds year-to-date, up 13% from the same period in 2022.
Strong shipments could continue. While weather conditions have reportedly improved since July, drought remains an issue in many parts of Mexico. Meanwhile, the country's consumers remain resilient, with higher industrial activity, lower unemployment and increased wages fueling dairy demand. The peso has also remained strong versus the USD, offering Mexico's importers more buying power.
Today's Special
Fewer American consumers planned to celebrate Labor Day weekend this year, according to data from Numerator, with 60% intending to partake in activities compared to last year's 75%. Despite somewhat less overall price inflation, 42% of Americans still expected rising costs to impact their Labor Day plans, and 55% decided to reduce their spending. Most respondents also said they were less likely to spend money to travel for the holiday.
Yet some U.S. consumers did splurge on travel for the weekend. Bookings for flights, hotels, rental cars, and cruises for domestic trips rose 4% compared to last year's holiday. Forecasts also called for 14 million passengers to pass through the nation's airports over the long weekend, though data by Hopper showed travelers paid more to fly this year, with roundtrips averaging $278, up 23% from 2022.
Those who hit the roads also spent a little extra, as gas prices hit the holiday's highest level since 2012. Popular destinations felt the most pressure, with the average price in San Diego reaching $5.37 per gallon, while drivers in West Palm Beach paid $3.85.
Nine out of 10 Americans also paid more for food this Labor Day, and 55% planned to buy alcoholic beverages. Grilling was a top activity, with most consumers planning to chow down on hamburgers (83%), hot dogs (67%), chicken (60%) and steak (41%).
But Labor Day sales drew smaller crowds, with 14% fewer consumers expected to go shopping over the weekend compared to 2022. Those who did fill up their carts took more money-saving measures, with 32% of consumers expected to lean on coupons, 23% set to switch to store brands and 20% planning to shop at discount stores.
Something Sweet: Passport to New Zealand