Read the latest issue of The Dairy Bar, a bi-weekly report from IDFA partner Ever.Ag. The Dairy Bar features spotlight data, key policy updates, and a one-minute video that covers timely topics for the dairy industry.
The Dairy Bar: Consumers Choose Dairy Amid Financial Concerns; Economic Turmoil Leads to More Spending Anxiety; and Food Consumption Trends in a Minute!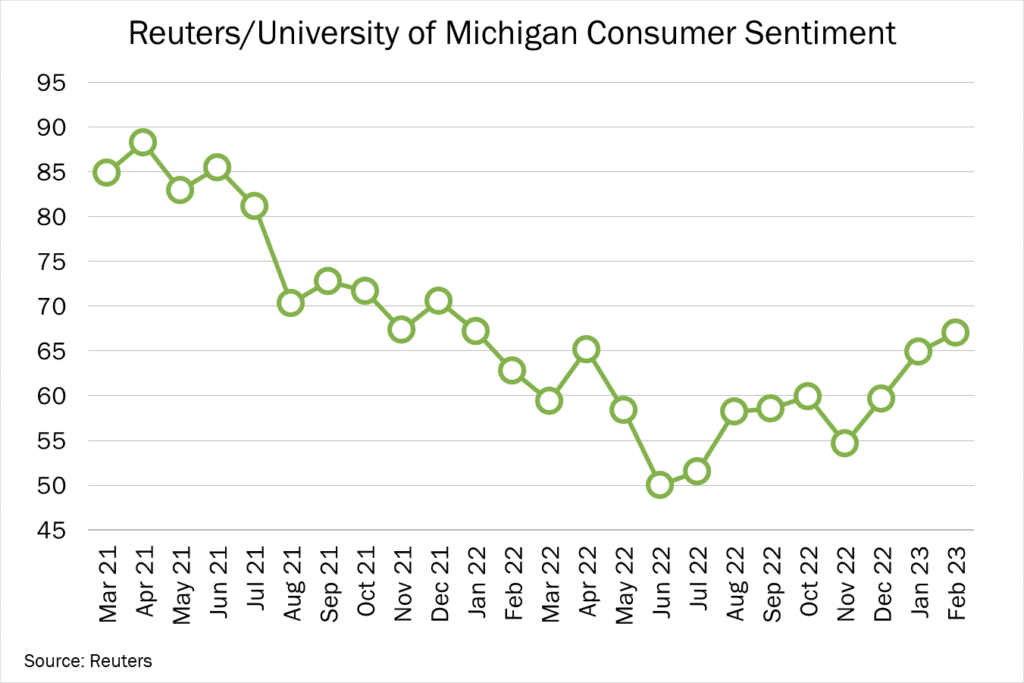 Quick Bites: Economic Uncertainty Beleaguers Consumers
Recent bank failures and anxiety in financial markets are worrying Americans, especially as they face elevated inflation and fears of a recession. Analysts say those concerns could cut further into consumer spending, which eased 0.4% month-over-month in February.
Big-ticket purchases could suffer the most. According to real estate company Redfin, home hunters in the Bay Area are increasingly reluctant to buy as the value of stock portfolios appears unsteady and rumors circulate around layoffs. Many are also wary after the collapse of Silicon Valley Bank and Signature Bank.
Consumers may also have less spending power if banks pull back on lending activity to avoid straining their coffers. Last year, roughly 80% of new-car purchases and 40% of used-car sales involved financing, per data by Experian. More than half of that backing came from banks and credit unions.
Smaller purchases – such as grocery and food service sales – may not be immune from lower consumer confidence. Inflation is apparently taking a toll, with grocery sales up just 0.6% and restaurant purchases down 2.2% on the month in February.
Today's Special
Amid economic concerns, consumers are still picking up dairy. According to a survey conducted by McKinsey & Company, 84% of Americans reported eating and drinking dairy or dairy alternatives. Of that number, 71% consume dairy products exclusively, 5% consume plant-based products exclusively and 24% pick up both.
When higher prices are a consideration, they tend to hamper plant-based purchases rather than dairy sales. In McKinsey's survey, 82% of consumers noticed higher prices for dairy milk, whereas only 65% noticed higher prices for oat milk and 62% for other plant-based beverages. After noticing price increases, 56% of consumers reported that they have continued buying the same amount of dairy milk and are not switching products, brands or product sizes. On the other hand, only 38% of soy milk consumers and 32% of consumers of other plant-based beverages said the same.
Overall, taste continues to drive dairy demand. When asked about the top reason they bought dairy, 70% of respondents said they enjoyed the taste. Notably, 57% of those who drink only dairy products said they disliked the taste of alternatives. Another 29% noted dairy was good for their health, and 26% said dairy offered good nutritional value.
While perception of dairy products remains favorable, data suggests sales of certain items are slowing. According to persons familiar with scanner data, retail milk and ice cream purchases each declined more than 1% year-over-year during the first three weeks of March. But sales of cheese and butter rose roughly 1% and 5%, respectively, over prior-year levels.
Something Sweet: Food Consumption Trends in a Minute