Read the latest issue of The Dairy Bar, a bi-weekly report from IDFA partner Ever.Ag. The Dairy Bar features spotlight data, key policy updates, and a one-minute video that covers timely topics for the dairy industry.
The Dairy Bar: Rising Interest Rates Mean Less Spending, Freight Market Prices Drop, and Dairy Stocks and Production in a Minute!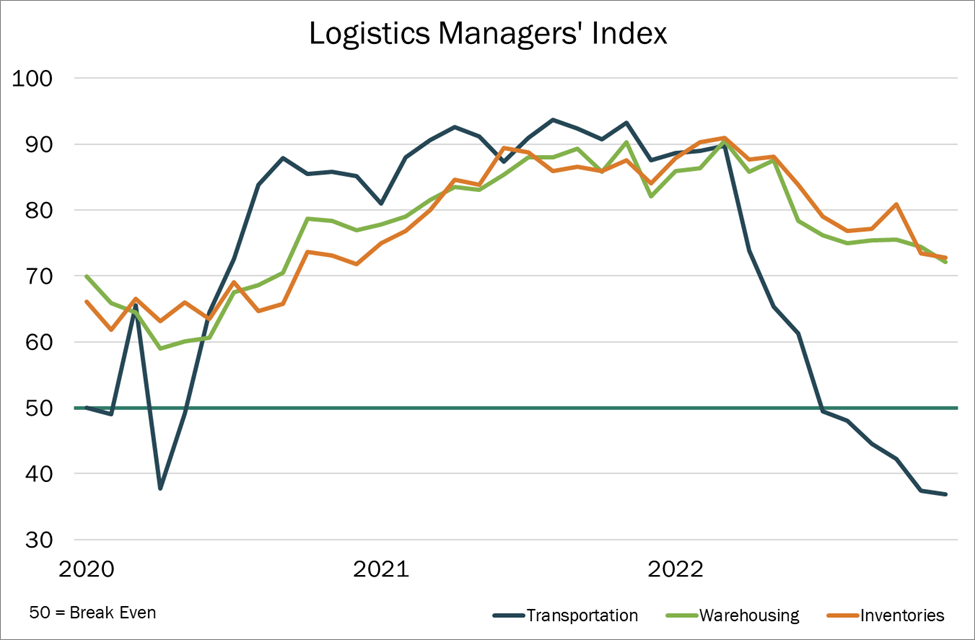 Quick Bites: Freight Market Steadying?
After months of climbing to new highs, freight prices plunged at a record rate in December. Transportation costs as measured by the Logistics Managers' Index – a monthly survey of supply chain leadership – dropped to a reading of 36.9 for the month, falling into contraction territory.
With warehouses already well-stocked for the holidays, analysts say less freight was needed to move goods ahead of Christmas. That weighed on transportation costs and the LMI's transportation utilization gauge, which also contracted, even as capacity loosened.
Amid faltering demand, trucking rates are decreasing. DAT Freight & Analytics reported month-to-date spot dry van rates at $2.42 per mile, down 68 cents year-over-year, while spot reefer rates declined to $2.84 per mile, down 76 cents versus prior-year levels. Following recent drops, analysts say freight markets are likely to stabilize in the months ahead, as first quarter activity is shaping up better than expected
Today's Special
Facing higher prices, rising interest rates and smaller savings, American consumers are pulling back on spending. As of December, retail purchases slowed for four straight months, with significantly fewer dollars spent on services, including rent, utilities and even haircuts. For all of 2022, sales of existing homes fell to the lowest level since 2014, and vehicle purchases posted the worst performance in over a decade.
Smaller bank accounts and thinner wallets are behind the slowdown. In December, the personal savings rate – and measurement of monthly income set aside for savings – dipped to 3.4%, down from 7.5% a year earlier. At the same time, credit usage and debt levels are rising. According to NerdWallet, total debt owed by the average U.S. household rose 7.6% between 2021 and 2022. Total credit card usage increased 15.2% during the same time frame.
As disposable income encounters pressure, shoppers are spending less on food – including dairy. In January, restaurant foot traffic decreased roughly 9% versus 2019 levels, per data by Placer.ai. Early estimates also suggest retail sales – including grocery purchases – likely declined in January. Scanner data shows for the first four weeks of the month shows cheese sales eased roughly 2% year-over-year, while butter volume fell nearly 7%.
Despite a dimming outlook, analysts say there are some reasons for optimism. Unemployment in December reached 3.5%, while hourly wages rose 4.6% on the year. There are still plenty of opportunities available, with an estimated 10.5 million jobs left unfilled as of November. And with the Federal Reserve poised to taper interest rate hikes this year, employers may feel less pressure to lay off workers.
Something Sweet: Dairy Stocks and Production in a Minute