Read the latest issue of The Dairy Bar, a bi-weekly report from IDFA partner Ever.Ag. The Dairy Bar features spotlight data, key policy updates, and a one-minute video that covers timely topics for the dairy industry.
The Dairy Bar: U.S. Job Market Beginning to Cool, UN Food Price Index Hits New High, and U.S. Dairy Trade in a Minute!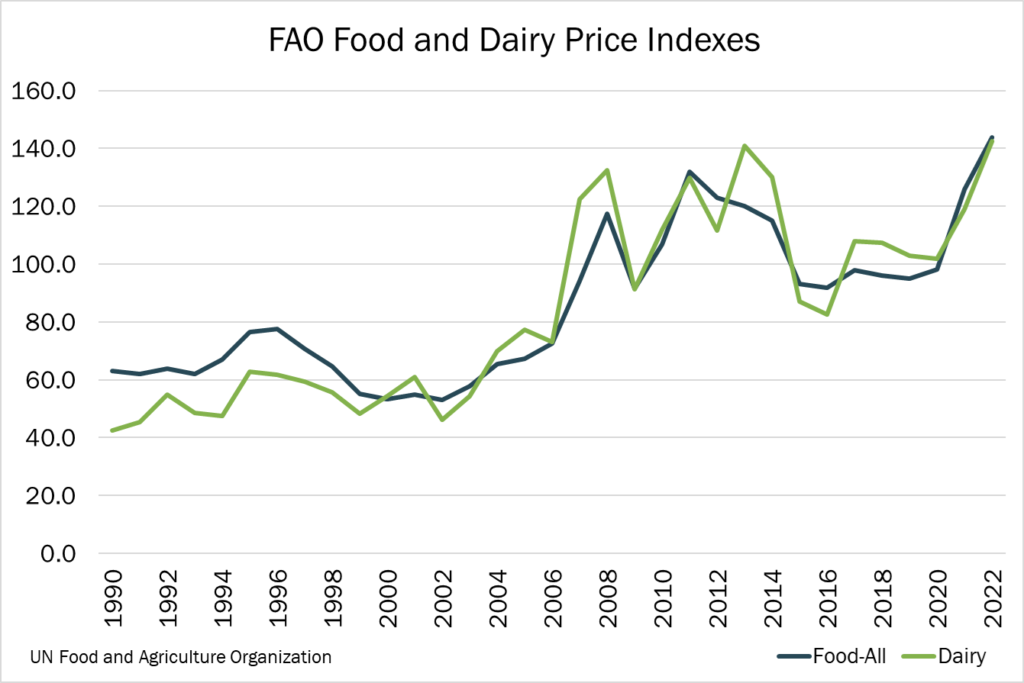 Quick Bites: UN Food Price Index Hits New High
In 2022, Russia's invasion of Ukraine, drought, record heat and other factors negatively impacted food availability and sent prices soaring according to the U.N. Food and Agriculture Organization (FAO).
We've seen a little relief lately. The FAO Food Price Index, which tracks changes in international prices of commonly traded food goods, slipped to 132.4, down 1.9% month-over-month in December. Lower demand and reports of increased production for commodities like vegetable oils, grains and meat helped prices ease.
But for the full year of 2022, the index averaged 143.7, up more than 14% compared to 2021 to the highest level on record. The war in Ukraine not only disrupted production and transportation of key food products such as wheat and sunflower oil, but it also rocked energy markets and hurt fertilizer supplies. As a result, consumers at the margin financially, especially those living in developing nations in Africa and the Middle East, have faced high levels of food insecurity. In some countries, rapid food price increases have spurred protests in the streets and most extreme, the toppling of the government in Sri Lanka.
The Dairy Price Index was not immune, hitting 142.5, up 19.6% versus 2021 and the highest reading since 1990. That was due largely to increasing global cheese demand, record-high U.S. prices and tighter supplies.
Today's Special
For months, the U.S. job market has been robust, as businesses struggle to find and retain workers. According to the most recent data from the U.S. Department of Labor, things are cooling slightly.
That could be encouraging news for the Federal Reserve in its fight against inflation. Rising wages have been one factor pressuring businesses to raise product prices as they offset higher labor expenses.
In some ways, the ongoing story of "too many jobs for too few people" remains unchanged. As of November, there were 10.5 million empty positions compared to six million job seekers.
The number of people quitting their jobs also remained strong, as workers remained confident in their ability to find a new position. In November, 4.2 million people quit their jobs, up from four million the month before and down just slightly from 4.5 million in 2021. At the same time, November hiring hit 6.1 million, unchanged on the month, but down from 6.7 million the year before.
December data offered conflicting data. On the positive side, payrolls continued to expand while the unemployment rate moved lower. On the negative side, the average workweek and overtime hours declined. In addition, data shows that the number of persons employed full time is actually down about more than 2 million people since the July peak.
While wages continue to rise, the trend appears to be slowing. Average hourly earnings reached $32.82 in December, up 0.3% month-over-month and 4.6% higher on the year. That's still the slowest pace in 16 months and behind the December inflation rate of 6.5%.
Something Sweet: U.S. Dairy Trade in a Minute