Read the latest issue of The Dairy Bar, a bi-weekly report from IDFA partner Blimling and Associates, Inc., a dairy research and consulting firm based in Madison, Wisconsin. The Dairy Bar features spotlight data, key policy updates, and a one-minute video that covers timely topics for the dairy industry.
La Niña Affecting Trade and Crop Conditions; Volatility in the Cheese Market; and Dairy Inventories in a Minute!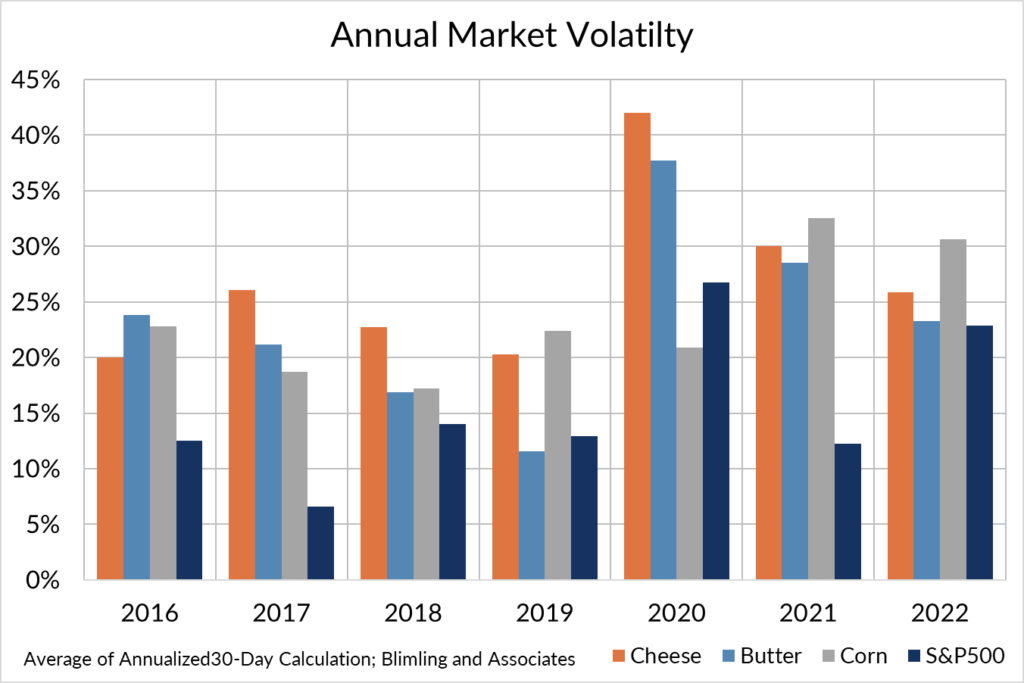 Quick Bites: Volatility at the Cheese Market
Spot cheese markets are on a downward trend, with blocks slipping below $1.80 per pound and barrels under $1.90 per pound as ample supplies outweigh softer demand. But lower prices may bring buyers back to the table – especially export clients – providing some support for prices in the months ahead.
Whether at grocery stores or restaurants, Americans seem to be eating a little less cheese. Persons familiar with scanner data suggest natural cheese sales dipped roughly 1% versus prior-year levels during the first three weeks of August. Meanwhile, rising inflation is discouraging restaurant activity. Month-to-date, restaurant foot traffic fell more than 4% versus 2019 levels, according to data by placier.ai.
Supplies, however, are more than adequate. U.S. cheese stocks reached 1.52 billion pounds in July, up 5.1% year-over-year. That was driven in part by a large jump in American-type cheese inventories, which increased to 859.9 million pounds, up 4.2% on the year.
Healthy inventories and competitive pricing may encourage already robust exports. During the third week of August, German Edam rose to $2.41 per pound, while New Zealand cheddar reached $2.27 per pound.
Today's Special
A La Niña weather pattern is spurring unfavorable conditions across the Northern Hemisphere. A nearly two-decade-long drought in the American West may now be at the worst point in 1,200 years, according to a study led by the University of California, Los Angeles. Dry conditions impacting Spain, Portugal, France and Italy could be the harshest in five centuries. And parts of China are experiencing the longest sustained heat wave since monitoring began in 1961.
In the U.S., light snowpack in the Sierra Nevada is exacerbating a water shortage across California. As a result, about a third of the state's farmland acres went unplanted this year. Dry conditions in other parts of the country are also triggering water cuts and weighing on agriculture. In fact, forecasts suggest a lack of moisture could reduce this year's cotton crop by as much as 40%.
In Europe, rivers that serve as major trade arterials – such as the Rhine and Po – are so low, manufacturers are cutting shipments. Generation of hydropower and nuclear energy are also declining across the continent, even as natural gas supplies are coming under pressure from the Russia-Ukraine conflict.
And in China, government officials declared a drought in six jurisdictions. According to reports, portions of the Yangtze River, a critical source of water for hydropower, transport and crop irrigation, are at record lows. A lack of rainfall is also hampering hydroelectric production in some areas, leading authorities to order factories to shut down or scale back production.
Relief may be in sight – but is likely several months away. Though La Niña weather typically lasts nine to 12 months, the current pattern is stretching into its second year. The National Oceanic and Atmospheric Administration expects it to last until at least February 2023.
Something Sweet: Dairy Inventories in a Minute