Read the latest issue of The Dairy Bar, a bi-weekly report from IDFA partner Blimling and Associates, Inc., a dairy research and consulting firm based in Madison, Wisconsin. The Dairy Bar features spotlight data, key policy updates, and a one-minute video that covers timely topics for the dairy industry.
The Dairy Bar: Inflation and Shrinkflation on the Rise, Producer Price Index Up, and Fuel Prices in a Minute!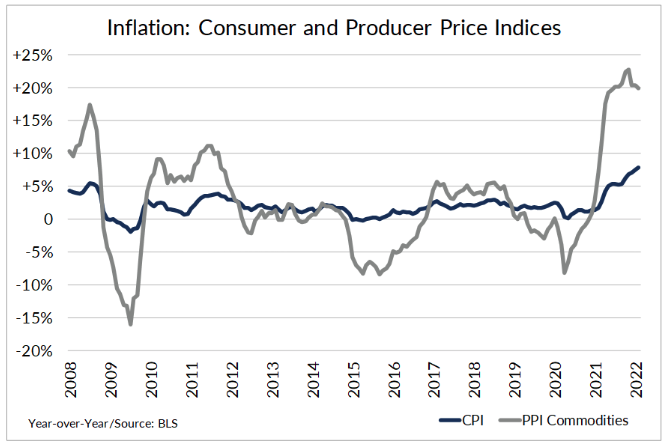 Quick Bites: Producers Under Pressure
Manufacturers paid more for supplies in May as prices rose at a near-record pace. The producer price index – which measures what suppliers charge companies and other customers – increased 0.8% month-over-month and +10.8% on the year, just shy of March's record jump of 11.5%.
That could be bad news for consumers as producers pass on the extra expense. Consumer prices rose 8.6% year-over-year in May, the fastest pace since December 1981. Analysts are monitoring inflation for signs of a peak, but with oil and fuel prices on the rise, prices could remain on an upward trend.
In an effort to curb inflation, the Federal Reserve approved last week a 0.75 percentage point interest rate increase. Analysts expect more to come. Fed Chairman Jerome Powell said projections show inflation could ease by 2024, though variables like crude oil could keep prices elevated.
Today's Special
From coffee makers to cars, consumers are facing rising costs and pulling back on spending. Total retail sales fell 0.3% month-over-month in May as inflation rose 1.1% versus April. That's putting merchants and manufacturers at a disadvantage as they struggle to maintain profit margins without alienating price-sensitive shoppers.
Rather than raise prices, many food manufacturers have turned to "shrinkflation" to handle rising input costs. For instance, the party size of a popular snack chip recently dropped from 18.0 ounces per bag to 15.5 ounces. Similarly, some ice cream companies shaved eight ounces off gallons, while a top yogurt brand changed its cartons from 5.3 ounces to 4.5 ounces. The reason? Consumers tend to notice prices more than they do net weight.
Restaurants are finding their own workarounds as costs rise. The average input cost for restaurant operators is up 17.5% this year, outpacing increases in menu prices. At the same time, Mastercard and Visa raised transaction fees for many merchants in April. In response, many restaurants are adding new charges to checks. Macaroni Grill, for one, recently added a $2 "temporary inflation fee" to its tabs.
Some industries are faring better with price increases than others. Research by The Wall Street Journal found that consumers were more accepting of rising costs for household and personal products, vehicles, telecommunications, consumer services, banking and pharmaceuticals. On the other hand, shoppers tend to balk at higher price tags for apparel, technology equipment, energy, food, software and professional services.
Something Sweet: Fuel Prices in a Minute