Read the latest issue of The Dairy Bar, a bi-weekly report from IDFA partner Blimling and Associates, Inc., a dairy research and consulting firm based in Madison, Wisconsin. The Dairy Bar features spotlight data, key policy updates, and a one-minute video that covers timely topics for the dairy industry.
The Dairy Bar: China COVID Policies Further Snarl Supply Chains; Soaring Fuel Prices Hit Pocketbooks; and Global Milk Production in a Minute!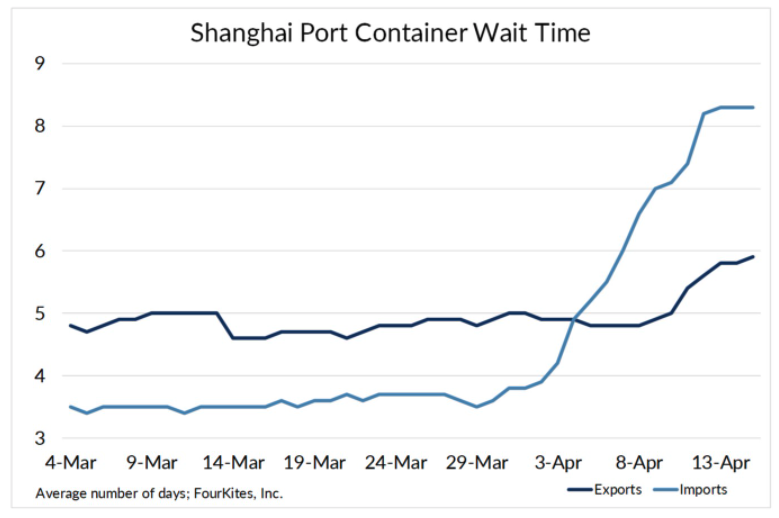 Quick Bites: Shanghai Shipping Snarls
China's zero tolerance policies on COVID policy are creating even more snarls in global supply chains – tangles that may take months to undo. Since Shanghai, the busiest container port in the world, went into lockdown on April 1, transport of goods in and out of the port has ground to a virtual halt, and wait times for loading and unloading have doubled.
At the port, empty containers sit waiting for cargo, while ships wait offshore with no one to accept their loads. Logistics companies that consolidate products for shipping report they're seeing less than 10% of their usual daily volume. Container ships idling at the port are facing wait times over eight days, more than double the pre-lockdown wait time.
A major part of the problem lies in trucking. Strict policies are cutting off the movement of goods as truck drivers are regularly quarantined, leaving goods and raw materials stranded at warehouses or idling on parked trucks, leading to factory shut downs and shipment logjams. Daily truck volumes through Shanghai in mid-April dropped as much as 70% from the end of March.
Covid numbers may be beginning to decline in the region. But experts predict that even if restrictions ease in the next couple of weeks, it could be well into summer before the waves from the current lockdown diminish.
While the drop-off in Shanghai activity is giving a break to overloaded ports in the U.S. and Europe, it's resulting in even more delays for companies and consumers waiting for products. Also, it's creating a backlog that's likely to overwhelm them once lockdown ends and the logjam of goods is released.
Today's Special
Soaring gas and diesel prices are hitting everyone's pocketbooks. For businesses that rely on fuel to operate, it's creating a dilemma: How to absorb and deal with the sudden price leaps without alienating customers.
Unleaded gas prices in March surged 20% versus February. Diesel, meanwhile, shot up 27% month-over-month. For truckers, diesel jumped more than $1.10 in two weeks after Russia's invasion of Ukraine and now costs an average of 30 cents more per mile than two years ago.
That's creating a crisis for freight operators, particularly smaller trucking companies that have less breathing room to absorb additional costs. And it's not just the height of the price climbs, it's the speed. When prices shoot up so quickly, it's difficult to adjust at an equal pace or to work out how to pass the new costs on to customers.
Some small companies say they're looking for more direct business with customers instead of using freight company middlemen. But many are finding that customers balk when they try to pass the costs on. They're also implementing new policies such as delaying repairs, limiting idling times, reducing speed, and saying no to longer-haul jobs.
Ultimately, that is likely to result in higher prices and longer wait times for consumers.
Direct-to-consumer sales and delivery services are also looking for ways to adjust to new pricing as their own delivery costs soar. Amazon, for example, is coping with rising prices by adding a 5% fuel and inflation surcharge to third-party seller fees effective April 28. Sellers have reported they'll likely have to raise their product prices as a result.
Or take FedEx, which uses independent contractors to provide ground delivery services. It uses a formula to calculate its fuel surcharges. Those rose from 11.75% at the end of 2021 to 16.25% at the end of March, with more adjustments expected in April.
Because gas prices are unlikely to drop much in the near future, businesses and consumers will continue to struggle with the new reality and impacts on their bottom line.
Something Sweet: Global Milk Production in a Minute