Read the latest issue of The Dairy Bar, a bi-weekly report from IDFA partner Blimling and Associates, Inc., a dairy research and consulting firm based in Madison, Wisconsin. The Dairy Bar features spotlight data, key policy updates, and a one-minute video that covers timely topics for the dairy industry.
The Dairy Bar: Energy Costs Spike from Ukraine Invasion and Pandemic Effects, Fuel Costs and Trucker Shortages Continue to Raise Freight Prices, and Cow Numbers in a Minute!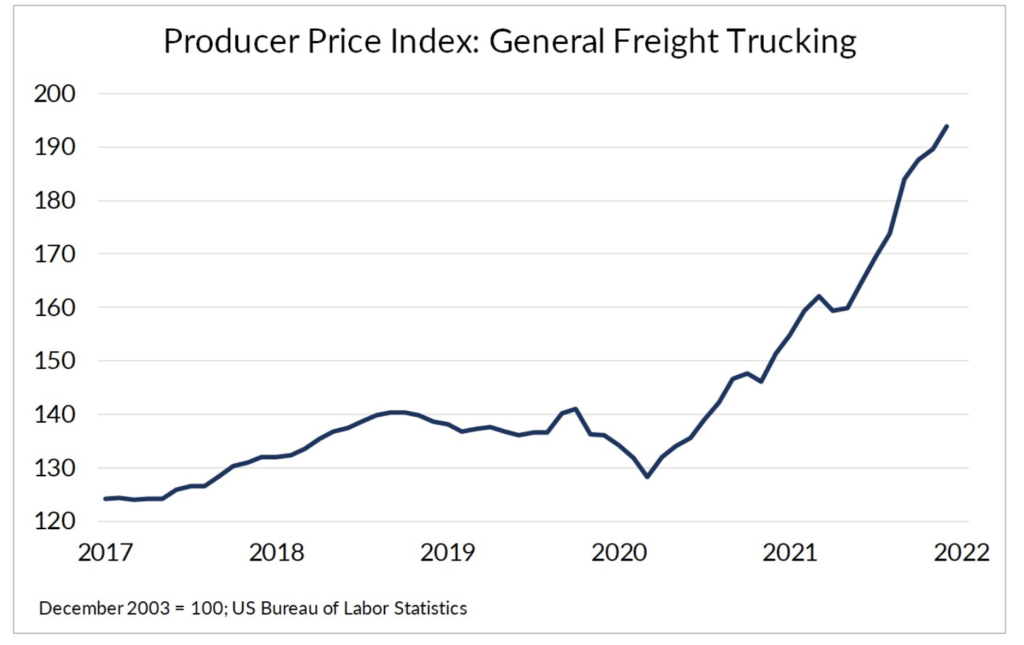 Quick Bites: Shipping Costs on the Rise
The cost of moving goods continues to rise on skyrocketing fuel prices, ongoing truck driver shortages and tangled port backlogs. Those factors combined are making it more expensive for the shipping industry to do business. Reports indicate some smaller trucking companies are getting hit hard and are closing up shop in response. The Producer Price Index for General Trucking jumped 2.3% on the month and +28.2% year-over-year in February, reaching 193.9, a record high.
As a result, shipping rates are on the rise. EverAg's Dairy.com group reported spot tanker rates for the second week of March at $6.69 per mile -- an all-time high. That's $1.02 (+18%) higher than the first week of January and +$2.65 (+66%) versus prior-year levels. Contract rates reached $5.02 per mile, a 22-cent increase (+14%) from the start of the year and +$2.65 (+24%) year-over-year.
Data from DAT Freight & Analytics shows spot trucking rates dipped a bit in March, although they remain well above last year's prices. Dry van rates totaled $3.06 per mile, down 3 cents (-1.0%) versus January, but up 41 cents (+15.5%) compared to 2021. Spot reefer rates averaged $3.46 per mile, down six cents (-1.7%) on the month, but up 52 cents (+17.7%) year-over-year.
Today's Special
American consumers are reeling as energy costs spike due to the war in Ukraine and aftershocks of the pandemic disrupt everything from stock markets to store shelves. How will the turbulence and skyrocketing costs impact their spending? With higher prices draining wallets, will they change their habits?
Retail sales data indicates consumers are still in a spending mood. Retail sales in February climbed 0.3% month-over-month and +17.6% on the year. But that's a slow-down from January, when sales increased 4.9% versus December numbers.
On the food side, February grocery store sales dipped 0.8% from January's numbers, but climbed 8.4% year-over-year. On a volume basis, the dairy case has shown some signs of weakening: butter down by just over 10% and cheese slipping by about 1% for the four weeks ending in mid-March versus the same period last year. Food service dollar sales in March rose at a healthy clip, up 2.5% on the month and +33.0% on the year. Since neither retail nor food service data is adjusted for inflation, some of the rise in revenue can be attributed to climbing prices.
Meanwhile, discretionary spending on items like furniture and electronics slipped on the month in February, -1.0% and -0.6%, respectively. According to NPD Group data, unit sales of merchandise goods such as clothing, shoes and toys fell in 9 of the 10 weeks from December 26 through March 5 compared to the year before.
With shipping and material costs rising, some stores and brands are passing those costs on to consumers, but they're encountering pushback – especially in lower-priced goods. When clothing brand Bella Dahl raised t-shirt prices, for example, sales fell, forcing the company to pull prices back down. Some companies are turning to less expensive materials and techniques as a way to reduce costs. At the same time, luxury clothing brands like Coach are moving in the opposite direction, improving quality as a way to justify price hikes.
Many consumers are turning to discount stores – and not just for the lower prices. With ongoing shipping problems slowing delivery of products, items like seasonal home décor or trendy clothing arrive too late for full-priced stores' shelves. They are instead sold to outlets and discount chains like TJ Maxx and Marshall's, giving those stores an edge on product availability. Discount chain Ross Stores reported their inventory for the 12 months ending January 29 increased 23% year-over-year.
Whether these new trends will continue remains to be seen. And we don't know for sure what it all means for dairy product demand. But as the dust settles, buyers and sellers alike are seeking out a new normal.
Something Sweet: Cow Numbers in a Minute