Read the latest issue of The Dairy Bar, a bi-weekly report from IDFA partner Blimling and Associates, Inc., a dairy research and consulting firm based in Madison, Wisconsin. The Dairy Bar features spotlight data, key policy updates, and a one-minute video that covers timely topics for the dairy industry.
The Dairy Bar: Holiday Retail Spending Rose at Fastest Pace in 17 Years, Shipping & Logistics Costs Skyrocketing, and the Passport to the EU!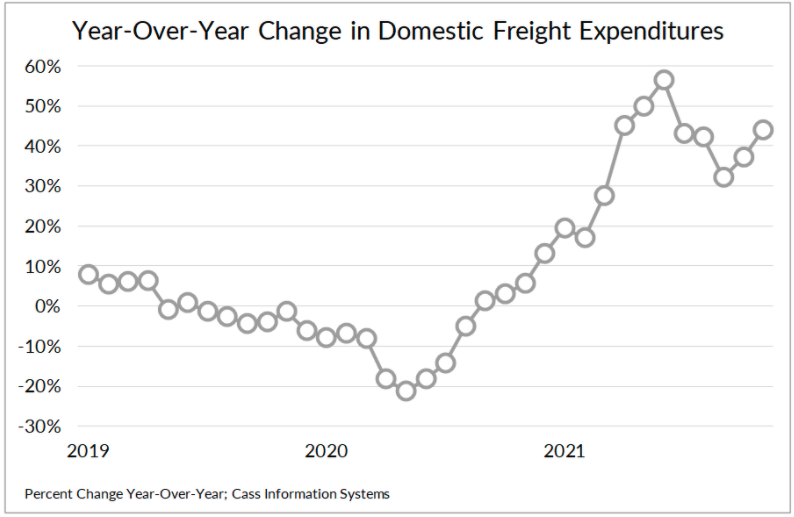 Quick Bites: Shipping Rates Keep Trucking
Shipping and logistics costs are skyrocketing, and analysts say there's no relief in sight. Domestic shipping rates for road and rail rose 23% year-over-year in 2021, according to Cass Information Systems. And costs could increase by high-single-digit to mid-double-digit percentages in 2022.
Trucking rates finished 2021 at record highs, with spot reefer rates averaging $3.08 per mile and spot dry van rates reaching $2.99 per mile in December. And while long-term contract costs are usually more stable, DAT Solutions reported the average contract rate rose to an all-time high of $2.51 per mile in November. Further boosts are likely, with some trucking companies forecasting double-digit rate growth in 2022 as capacity remains tight.
Ocean shipping prices could also climb to new records in the coming year. Costs to move a 40-foot container between Shanghai and Los Angeles jumped from roughly $1,500 in 2019 to more than $4,700 in December 2021, and reports suggest they could rise even further in 2022. Some businesses are working to circumvent supply chain issues and avoid higher rates, implementing workarounds like sourcing products closer to home and storing products in idle truck trailers.
A measure announced in December by the Biden administration aims to ease trucking capacity by streamlining CDL certification and putting younger drivers behind the wheel. In an effort to relieve U.S. port backlogs, fines were also announced earlier in 2021 for shipping containers left at port terminals for more than nine days. However, the penalties have had mixed results. While congestion has eased for imports, exports continue to struggle, with carriers departing U.S. ports with empty containers.
Today's Special
Holiday spending rose at the fastest pace in 17 years, overcoming challenges posed by inflation, the Omicron variant and continuing logistics problems.According to Mastercard SpendingPulse, retail sales from November 1 to December 24 increased 9% over 2020 and +11% over 2019. Online sales climbed 11% versus 2020 and a whopping +61% from 2019. Clothing and jewelry saw the largest gains, up 47% and 32%, respectively, over last year.
That strong performance followed a weaker performance in November. As consumers faced higher prices and product shortages, total retail sales as measured by the U.S. Census Bureau rose by a modest 0.3% month-over-month, down from an increase of 1.8% in October. Still, lower unemployment and rising wages pushed purchases up 18.2% versus prior-year levels.
Meanwhile, consumers spent a little more on dairy in December when compared to 2019 levels. For the month, retail butter sales fell 7% versus 2020 but rose 7% from the same period two years ago. At the same time, sales of natural cheese decreased 1% year-over-year but climbed 10% on a two-year basis.
Rising costs could weigh on food purchases – and overall retail sales – in the coming months. In November, consumer price inflation rose by 0.8% versus October and +6.9% year-over-year, the largest yearly gap in nearly four decades. And even higher prices are likely ahead, with manufacturers including General Mills Inc., Campbell Soup Co. and Kraft Heinz Co. indicating costs could rise as much as 20% during the first half of 2022.
Something Sweet: Passport to the EU