Read the latest issue of The Dairy Bar, a bi-weekly report from IDFA partner Blimling and Associates, Inc., a dairy research and consulting firm based in Madison, Wisconsin. The Dairy Bar features spotlight data, key policy updates, and a one-minute video that covers timely topics for the dairy industry.
The Dairy Bar: Dairy Exports Strong in August; Cheese and Butter Consumption on the Rise; and the Per Capita Consumption Minute!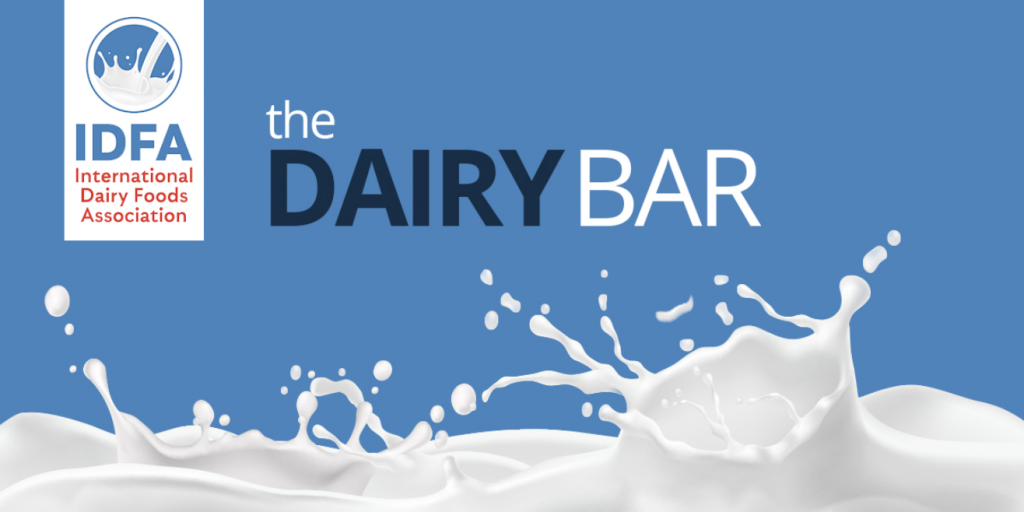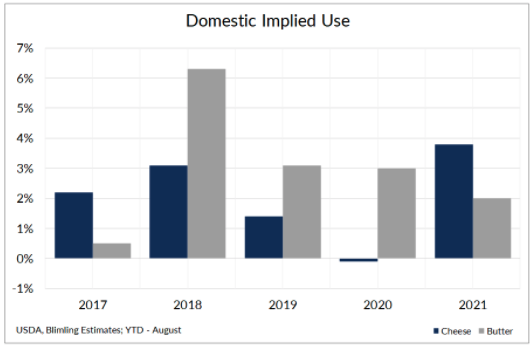 Quick Bites: A Taste of Dairy
Whether at the grocery store, their favorite restaurant or a school cafeteria, Americans are consuming plenty of dairy. Using stocks, production and trade data, estimates suggest U.S. cheese consumption totaled 8.7 billion pounds year-to-date through August. That's up 3.8% or an additional 316 million pounds year-over-year – enough to top about 505 million large pizzas.
Consumers are also picking up plenty of quarter sticks, tubs and pats of butter. Butter consumption reached 1.3 billion pounds during the first eight months of the year. That's a gain of 2.0% or +25.6 million pounds over prior-year levels – enough to bake 204 million chocolate chip cookies.
Persons familiar with scanner data say consumption through retail channels remained strong in September. Grocery purchases of cheese and butter both increased roughly 10% versus the same month in 2019.
Food service orders are also robust, particularly sales of cheese into quick-service chains. However, the dairy and food service industries are closely monitoring Delta variant cases, which could keep Americans out of restaurant dining rooms.
Today's Special
A steady stream of dairy products made their way out of the U.S. in August. Cheese exports totaled 81 million pounds for the month, down 1% from July but up 18% year-over-year. Of the top 10 export markets, Japan, Canada, Chile and Panama are all showing double-digit percentage increases in sales growth over this period last year.
Exports of nonfat dry milk and skim milk powder rose to 174.0 million pounds, up 8% month-over-month and +15% from the previous year. Shipments to Mexico totaled 73 million pounds, an increase of 13% on the month and +40% over prior-year levels. Reports suggest widespread drought conditions are weighing on the country's milk and powder production.
Butter exports remain on the upswing, reaching 7 million pounds in August. That was down 13% on the month but a jump of 91% compared to August 2020. On the other side of the trade equation, butter imports increased to 11 million pounds, up 31% from July and +31% versus last year.
On the other hand, outbound shipments of dry whey are tapering, rising 4% on the month but declining 17% compared to the previous August. Shipments to China decreased 25% versus the prior month and -37% from the year before.
For more information on U.S. trade dynamics or policy, please contact Becky Rasdall, Vice President, Trade Policy and International Affairs at brasdall@idfa.org.
Something Sweet: Per Capita Consumption Minute