Read the latest issue of The Dairy Bar, a bi-weekly report from IDFA partner Blimling and Associates, Inc., a dairy research and consulting firm based in Madison, Wisconsin. The Dairy Bar features spotlight data, key policy updates, and a one-minute video that covers timely topics for the dairy industry.
The Dairy Bar: 2021 Holiday Season Spending Forecast; Seasonal Hiring Already Ramping Up; Cheese and Butter Demand Remain Strong; and the Milk Production Minute!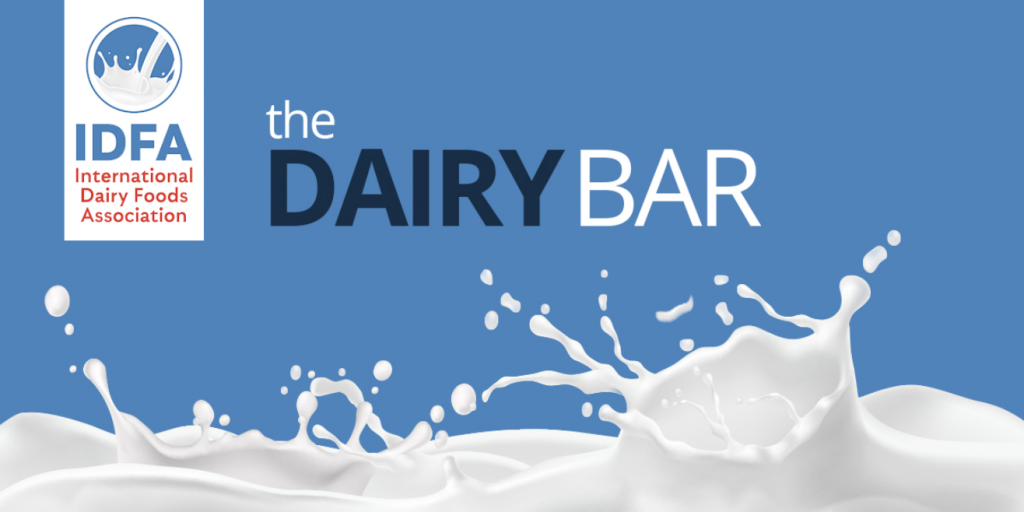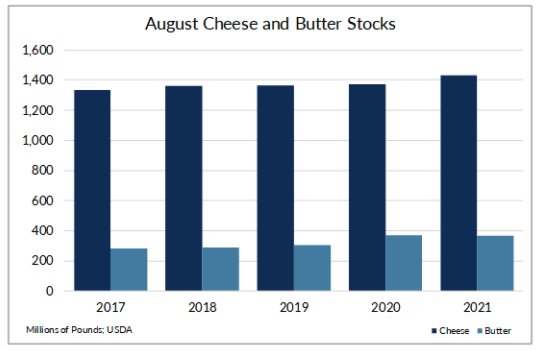 Quick Bites: Fire Up the Grill
New USDA data shows butter stocks are dwindling, while cheese inventories remain ample ahead of the holiday season.
In the August Cold Storage report, total butter stocks landed at 367.0 million pounds, down 1.2% (-4.6 million pounds) versus prior-year levels, the first year-over-year drawdown since June 2019. Inventories also fell 7.4% (-29.5 million pounds) on the month, well above the average 18.8-million-pound drop seen over the past five years and the largest July-to-August decrease since 2015.
Cream supplies are tight and moving them is difficult amid a shortage of trucks and drivers. Butter churns are also competing for cream as manufacturers ramp up production of other dairy products ahead of Thanksgiving and Christmas. That activity will likely weigh on butter stocks growth in the months ahead.
Total cheese stocks, meanwhile, rose to 1.4 billion pounds, down 1.5% (-21.1 million pounds) month-over-month but still 4.0% (+55.4 million pounds) ahead of prior-year levels. Though warmer temperatures limited milk production and back-to-school demand cut into milk flows during the summer months, cheese vats were still able to find plenty of it. As temperatures cool and pipelines refill, it's likely more milk will be available. That should keep cheese stocks supported.
Meanwhile, cheese and butter demand remains strong. Food service orders are robust, though some worry about labor shortages and rising cases of the Delta variant weighing on restaurant activity. On the retail side, scanner data suggest butter and cheese sales rose more than 10% versus 2019 during the first two weeks of September.
Today's Special
Retailers can expect plenty of holiday spirit this year. Forecasts by Bain, Deloitte and Mastercard suggest sales will increase by at least 7% over prior-year levels during Halloween, Thanksgiving and Christmas, as consumers look forward to more traditional celebrations.
Online shopping will play a key role in this year's shopping season, with analysis by Deloitte and Mastercard suggesting e-commerce sales will rise between 8-15% year-over-year.
What will Americans be buying this year? According to Bain and Mastercard, clothing, jewelry and electronics will be top picks as pent-up savings and leftover stimulus dollars encourage consumers to splurge on higher-priced items. But Bain expects food and beverage sales at grocery stores and other outlets to decline, as more holiday meals are eaten at restaurants.
Retailers are preparing for an expected surge in demand by stocking their shelves early. Factory shutdowns, chip shortages and freight issues continue to snarl the flow of goods into and across the U.S. To make sure they have the right products at the right time, big-box retailers like Best Buy, Target and Walmart are ordering extra and amassing inventories ahead of time.
Seasonal hiring is also ramping up sooner than usual. Kohl's, Michaels and Macy's are among the companies to already announce plans to hire tens of thousands of workers this holiday season. But filling those positions won't be easy. Labor shortages left roughly 10 million jobs open in August as the number of available slots outnumbered unemployed Americans. To attract seasonal workers, some retailers are offering increased pay and bonuses.
Something Sweet: Milk Production Minute