What is National Ice Cream Month
Americans consume about 22 pounds of ice cream and related frozen desserts each year, on average. As the summer reaches peak temperatures in July, Americans celebrate National Ice Cream Month as a way to cool off and enjoy the nation's favorite frozen treat with friends and family. Ice cream has historically been a key feature of American communities. According to an IDFA survey, most ice cream companies are family owned and have been in operation for more than 50 years! Here's more sweet news: Ice cream companies help support the U.S. economy, contributing more than $13 billion directly to the national economy and supporting nearly 29,000 direct jobs that generate $1.8 billion in direct wages, according to IDFA's Dairy Delivers®. In 2019, about 6.4 billion pounds of ice cream and frozen yogurt were produced in the U.S.

That's something to celebrate!
Presidential Proclamation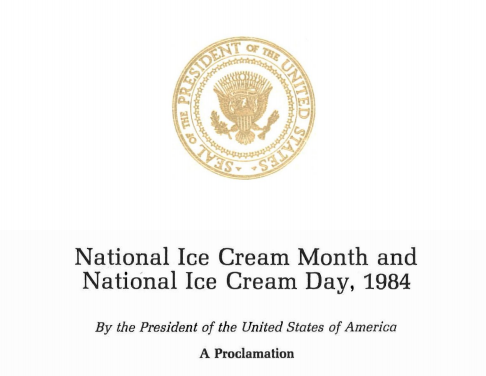 In 1984, President Ronald Reagan designated July as National Ice Cream Month and the third Sunday of the month as National Ice Cream Day.
In 2021, National Ice Cream Day will be Sunday, July 18.
In the proclamation, President Reagan called for all people of the United States to observe these events with "appropriate ceremonies and activities."
So, Let's Celebrate!
Every year, IDFA celebrates National Ice Cream Month in style with our annual Capitol Hill Ice Cream Party. Thousands of guests crowd the grounds surrounding the reflecting pool at the U.S. Capitol to enjoy dozens of varieties of ice cream from IDFA member companies. In total, IDFA staff and volunteers served more than 1,500 gallons of ice cream and more than 2,000 root beer floats in 2019.

We encourage ice cream makers and consumers to celebrate July as National Ice Cream Month. Please share exciting images of your favorite dessert and the many ways that you enjoy it. Watch @dairyidfa accounts on social media to see how IDFA members and our larger community are celebrating the month,
Share
Share our ice cream facts and figures with #NationalIceCreamMonth on Twitter, Facebook, and Instagram.
Watch & Post
We'll publish short ice cream video clips and moving images that you can share. We also encourage you to share your own images--please tag @dairyidfa.
Questions?