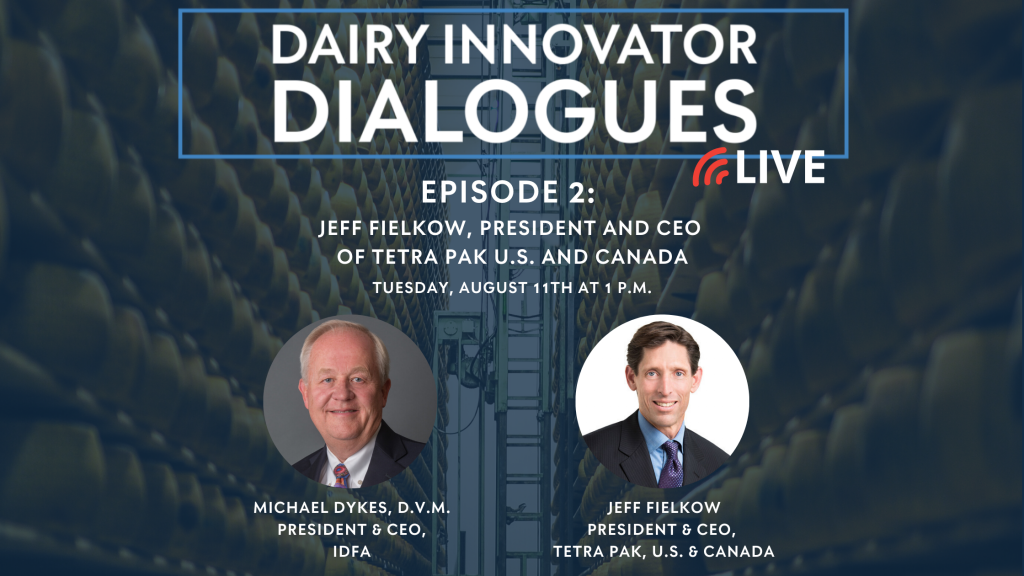 IDFA's Dairy Innovator Dialogues series, which goes behind the scenes with today's most respected and innovative dairy leaders, continues in live format for IDFA members this August.
Please join IDFA's Michael Dykes on Tuesday, August 11th at 1 p.m. Eastern for a live, 60-minute question and answer session with Jeff Fielkow, president and CEO of Tetra Pak U.S. and Canada. Mr. Fielkow was named president and CEO in January 2020 after serving dual positions as managing director of Tetra Pak Vietnam and vice president of sustainability for Tetra Pak's Asia Pacific region. Mr. Fielkow has held a variety of leadership roles outside of Tetra Pak, including CEO of Chicago-based Container Recycling, LLC and market area vice president for Waste Management, Inc. A global thought leader in sustainability, recycling and reuse, Mr. Fielkow received three separate gubernatorial appointments to Wisconsin's council on recycling. Tetra Pak is a world-leading food processing and packaging solutions company with more than 25,000 employees around the world. Founded in 1951 with a long history in dairy container and packaging solutions, Tetra Pak provides safe, innovative and environmentally sound products that meet the needs of people in more than 160 countries.
IDFA members are encouraged to attend this special session. Please send your questions for Mr. Fielkow in advance to dairydialogues@idfa.org. IDFA will also reserve 15-minutes for audience Q&A.
Registration
IDFA is offering this session of Dairy Innovator Dialogues Live free to IDFA members.
Questions: If you have questions or need assistance with the registration process, please contact IDFA at 202-737-4332 or registrar@idfa.org.