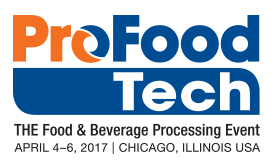 Look to ProFood Tech for a Food Processing Conference Program That Gives You an Edge
In the food and beverage industry, producers have to stay on top of consumer and flavor trends, regulations and best practices for food processing and engineering. Attending the ProFood Tech Conference Program, brought to you by the International Dairy Show, gives you an exciting, efficient and convenient way to tackle it all.
Through this dynamic program, professionals in business development, operations, plant management, engineering, research and development, quality assurance, sales, marketing and supply chain management can:
Gain a competitive edge by broadening your knowledge of the full industry landscape.
Discover the most recent innovations and best practices to better meet consumer needs.
Explore approaches used by other industries to spark innovation in your company.
Looking Back at International Dairy Show 2015
September 15-18, 2015 | McCormick Place | Chicago, IL
Continuous Improvements
The 2015 Dairy Show garnered a 12 percent increase in exhibit sales over the 2013 show, according to Neil Moran, senior group vice president of the International Dairy Foods Association. "We're very pleased with the continuous improvements we've made to the dairy shows in the past, and we're excited now to be taking it to the next level with ProFood Tech and our new partners, PMMI and Koelnmesse," Moran said. Read more
Six Innovative Companies Honored by IDFA at International Dairy Show
"The winners of the IDFA Innovations Awards are responsible for crucial developments in technology and innovative products and services that keep this industry on the cutting-edge," said Robin Cornelison, trade show director at IDFA. "We are proud to highlight the creativity of these six winning companies that are leading the way for the industry in 2015." Read more