Read the latest issue of The Dairy Bar, a bi-weekly report from IDFA partner Blimling and Associates, Inc., a dairy research and consulting firm based in Madison, Wisconsin. The Dairy Bar features spotlight data, key policy updates, and a one-minute video that covers timely topics for the dairy industry.
August 26, 2020: The Dairy Bar: U.S. NDM/SMP Exports Up 25%, Fluid Milk and Virtual Schools, & More!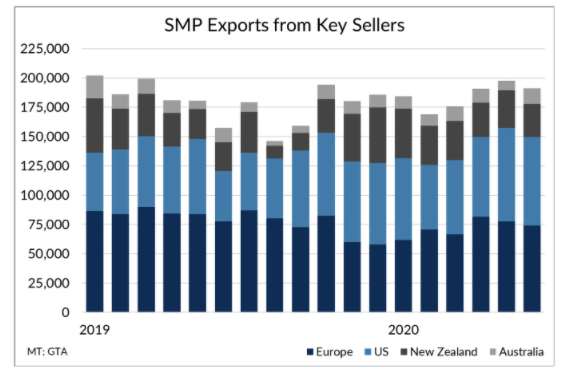 Quick Bites: Shuffling the Deck - NDM/SMP Demand
U.S. NDM/SMP exports have been running hot this year. U.S. total export sales were up 25% through June, and that's with a 16% pullback in shipments to Mexico, the biggest U.S. customer. That's up nearly 180-million-pounds over 2019. Shipments to Southeast Asia are largely responsible for the jump with sales into the region up 64% (149 million pounds) from 2019.
Despite solid U.S. export growth, the overall global NDM/SMP demand picture doesn't look all that exciting. Year-to-date through June, NDM/SMP exports from Australia, Europe, New Zealand, and the U.S totaled 2.44 billion pounds, up just 0.2% from the same period last year.
A closer look at the data spotlights what is mostly shuffling of market share. The U.S.'s share of NDM/SMP sales jumped from 30% in the first half of 2019 to 37% in 2020. Europe's share, meanwhile, slipped to 39% from 46% in 2019, primarily due to a 46% slump in sales to Southeast Asia on account of ongoing trade skirmishes.
What does the next six months look like for trade? Given global economic headwinds, it wouldn't surprise to see little expansion from key sellers into year-end, though competitive pricing and a weak dollar could skew opportunities toward the U.S.
Today's Special
Schools are going to look a lot different this year. Some kids will be in the classroom – at least part of the time. Many will be sitting at the kitchen counter with a laptop open. But no matter the mode of learning, fewer students will be grabbing trays and moving through lunch lines.
Fluid milk is clearly the most vulnerable to the shift in schooling. Estimates suggest that school milk accounts for about 8% of annual fluid sales, putting more than 3 billion in annual volume at risk and causing disruption to traditional milk movements.
But disruptions to school feeding programs aren't all about fluid milk. There's a lot of cheese consumed in schools, too. With kids more or less out of the lunchroom again this fall, that's far fewer pizzas, sandwiches, and cheeseburgers served. Though it is tough to pinpoint just how much cheese demand dislocation the industry could see, data from USDA suggests that it buys about 225 million pounds of cheese for school feeding programs annually.
School districts will still likely offer "pick up" meals for students in free and reduced lunch programs even with classrooms closed. But when that happened in the Spring, anecdotal reports say participation dropped sharply. In Madison, Wisconsin, for example, families claimed only 11% of eligible meals. Some volume will obviously shift through grocery channels for in-home consumption. For fluid milk, that puts more emphasis on gallons than half pints. For cheese, it could mean a lot more use through frozen pizzas, grilled cheese sandwiches and mac & cheese. That should help to offset some of the potential loss of in-school volume.
Something Sweet: Nonfat Dry Milk Minute
The Dairy Bar is a bi-weekly report from IDFA partner Blimling and Associates, Inc., a dairy research and consulting firm based in Madison, Wisconsin. The Dairy Bar features spotlight data in chart form that members may not easily find, such as intermarket relationships, currency impacts on global competitiveness and an international trading review. Each report also details key policy areas, such as trade updates, global supply, farm margins and federal commodity purchases, and includes a one-minute video that covers timely topics, such as data reported by USDA and other sources. Find past versions of The Dairy Bar on our Dairy Delivers page.