Read the latest issue of The Dairy Bar, a bi-weekly report from IDFA partner Blimling and Associates, Inc., a dairy research and consulting firm based in Madison, Wisconsin. The Dairy Bar features spotlight data, key policy updates, and a one-minute video that covers timely topics for the dairy industry.
July 22, 2020: Fuller Grocery Shelves, Less Variety; Shoppers Focused on Core Dairy Offerings; the U.S. Cheese Trade Minute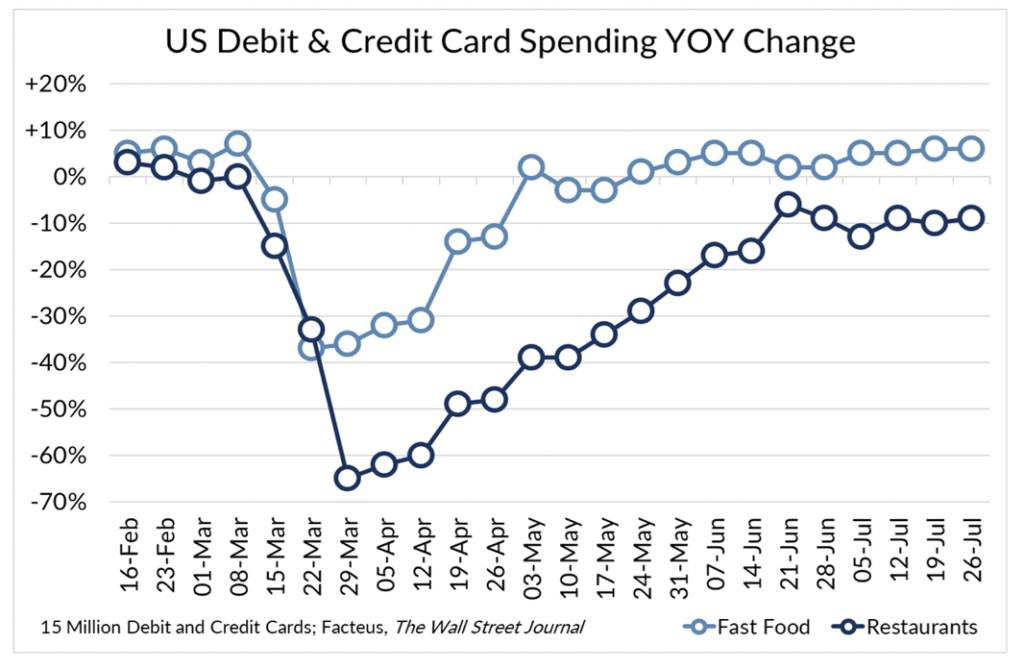 Quick Bites: Dollars for Dining
Early in the COVID-19 pandemic, most consumers opened their wallets for groceries as restaurants, bars and other retail outlets closed their doors. But thanks to burgeoning pickup and delivery options – as well as some reopened dining rooms – restaurants made a comeback into July.
Credit and debit card transactions at restaurants stabilized at around -10% year-over-year in July, up from -65% in late April, according to a report in The Wall Street Journal. Fast food outlets saw a far quicker rebound, with credit and debit card spending shifting from down nearly 40% year-over-year at the end of March to around +5% in July.
That's good news for cheese demand, as many fast food menu items feature a slice here or a sprinkle there. Pizza is doing especially well. Domino's reported U.S. same-store sales up 16% in the second quarter. Pizza Hut saw a 5% bump in domestic same-store-sales. And a 28% surge in North American sales during Q2 is spurring Papa John's to add 10,000 new workers to keep up with increased delivery demand. 
Today's Special
Back in growth-mode. June milk production in the U.S. increased by 0.5% year-over-year, up a full percentage point from May. Though herd numbers have come down some in recent months, there's still plenty of cow power in the market. USDA reported cow numbers at 9,350,000 head, up 23,000 year-over-year. 
It's not just cow numbers helping to bolster output. After producers adjusted rations and milking routines to cut back output in April and May, they seemed to tweak things in the other direction for June. Milk per cow per day jumped 0.2% year-over-year versus down 0.8% in May. 
But that was June. This is August. What's happening today and what's the outlook for the rest of 2020? Reports point to ample supplies across the U.S. and USDA spot milk data confirms as much. In early August, Upper Midwest spot milk prices were running $3.50 per hundredweight below class – a sharp contrast to the +$0.35 five-year average for the week and +$1.50 in mid-June. Balancing plants are running harder than usual for this time of year, too, with more milk filtering into the dryers. 
Is the uptick in available milk supplies the result of demand shuffling or a true bump in milk production? Likely a little bit of both, but from a producer perspective, margins – at least on paper – are healthy. Dairy Margin Coverage program estimates for 2020 are pointing to an average margin near $9.50 per hundredweight, on par with last year's levels and $2.00 higher than projected at the end of April. 
But that's on paper. Pay prices at the farm level are highly variable from region to region and farm to farm, exacerbated by a wide Class III/Class IV spread and widespread de-pooling across the Federal Order system. That could stifle growth appetites. Even still, milk production is forecast to keep rising well into the second half – particularly in places with few cooperative and proprietary plant supply restraints and the ability to take advantage of low feed prices. 
Something Sweet: US Exports
---
The Dairy Bar is a bi-weekly report from IDFA partner Blimling and Associates, Inc., a dairy research and consulting firm based in Madison, Wisconsin. The Dairy Bar features spotlight data in chart form that members may not easily find, such as intermarket relationships, currency impacts on global competitiveness and an international trading review. Each report also details key policy areas, such as trade updates, global supply, farm margins and federal commodity purchases, and includes a one-minute video that covers timely topics, such as data reported by USDA and other sources. Find past versions of The Dairy Bar on our Dairy Delivers page.