Read the latest issue of The Dairy Bar, a bi-weekly report from IDFA partner Blimling and Associates, Inc., a dairy research and consulting firm based in Madison, Wisconsin. The Dairy Bar features spotlight data, key policy updates, and a one-minute video that covers timely topics for the dairy industry.
The Dairy Bar: EU Health Certificates; Inflation Update; and Cheese Demand in a Minute!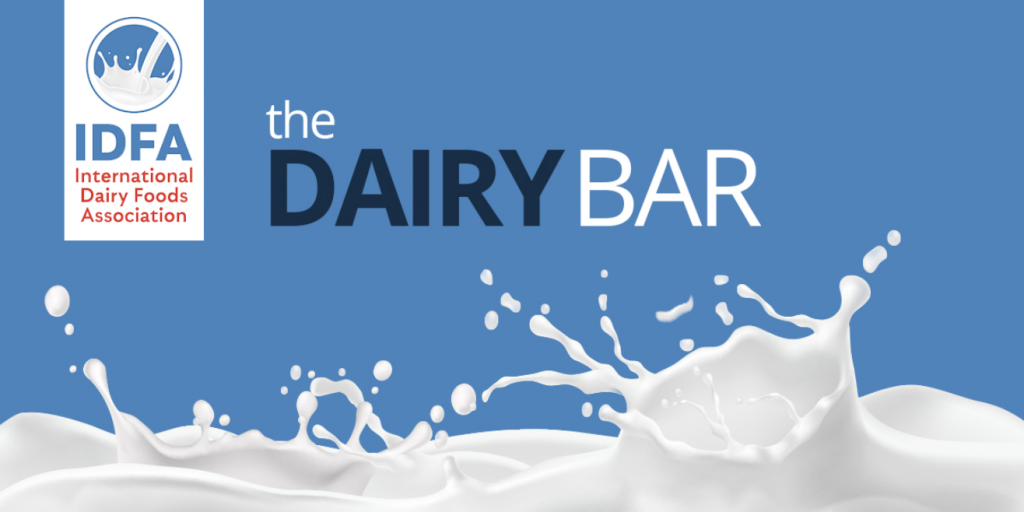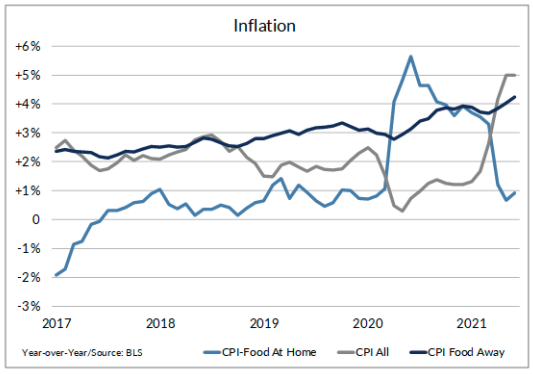 Quick Bites: Buying More, Paying More
Strong spending and commodity shortages continue to drive consumer prices upward. The Consumer Price Index rose 0.9% between May and June, the largest monthly gain since June 2008. A 5.4% increase versus June 2020 ranked as the largest year-over-year jump going back to August 2008.
Food prices saw more modest gains, rising 0.7% on the month and 3.6% versus last year. Food-away-from home prices increased 0.7% between May and June and +4.2% year-over-year as higher labor, handling and materials costs spurred menu price increases. Americans are definitely dining out more. Data by Blackbox Intelligence shows same-store chain-restaurant sales are back at pre-pandemic levels, rising 6.6% in June versus the same period in 2019.
Meanwhile, food-at-home inflation gained 0.7% month-to-month and +0.9% on the year. Though grocery store prices are rising at a slower pace than restaurant prices, consumers are making fewer trips up and down the aisles. June retail food sales climbed 0.6% on the month and 3.0% year-over-year.
Whether through food service or retail channels, dairy demand remains robust. But prices rose just slightly in June, up 0.2% from May and +0.7% from the previous year.
Today's Special
In 2020, the U.S. shipped an estimated $84 million in dairy products to the European Union. But that flow of goods could be in jeopardy as negotiators finalize regulations that would require new health certificates to accompany the region's dairy imports.
These new health certificates may require farms to be inspected more frequently, while also pushing producers to keep logs of data on cow health and movement. Some in the dairy industry say the rules are too intrusive and require farmers to hand over too much information to foreign governments. And IDFA believes the new certificate requirements lack scientific evidence and is inconsistent with World Organization for Animal Health and Codex recommendations.
Trade flows are likely already seeing the impacts as U.S. exporters reportedly rush to move as much product into the EU as possible ahead of the regulation's deadline next month. Annually, IDFA estimates the certificates will impact $900 million in global infant formula sales, $40 million in lactose sales and additional amounts of trans-shipped products.
Negotiations are ongoing. While the new certificates must be implemented by August 21, trade groups across the U.S. and EU have requested additional time to assess the impact of the new regulations. At this point, however, the European Commission has yet to grant an extension. Ultimately, the regulation could force some U.S. exporters out of business, particularly those who work exclusively with producers in the EU.
For additional information on the European dairy certificate negotiations, please contact Becky Rasdall, IDFA vice president, trade policy and international affairs, at brasdall@idfa.org.
Something Sweet: Cheese Demand Minute