Read the latest issue of The Dairy Bar, a bi-weekly report from IDFA partner Blimling and Associates, Inc., a dairy research and consulting firm based in Madison, Wisconsin. The Dairy Bar features spotlight data, key policy updates, and a one-minute video that covers timely topics for the dairy industry.
The Dairy Bar: Rising Grain Prices To Hit Dairy Producer Feeding Costs, Restaurant Recovery Ramping Up, and the Milk Production Minute!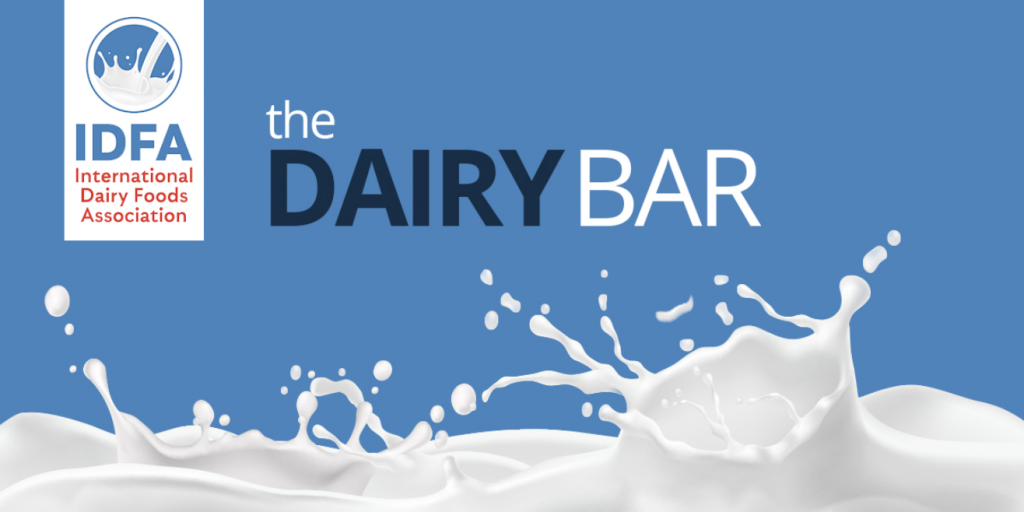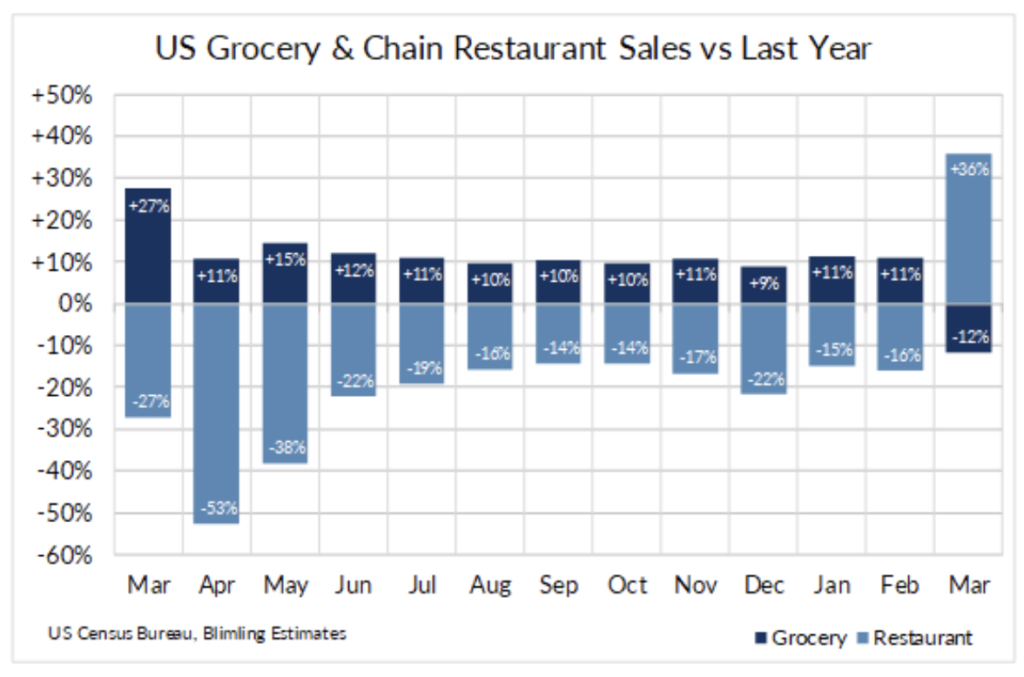 Quick Bites: A Retail-Restaurant Rebalancing Act
The restaurant recovery is ramping up. And consumers are spending less money on homemade meals as they head out to dining rooms and patios. Data by the US Census Bureau shows food service sales rose to $62.2 billion in March, up 36% versus prior-year levels. Grocery sales, on the other hand, declined to $72.0 billion, down 12% year-over-year.
Quick-service restaurants, which fared better during the pandemic, are also seeing a quicker rebound. Sales at fast-food chains rose 29% year-over-year in March and were just 5% below 2019 levels, according to The NPD Group. Full-service restaurant sales, meanwhile, jumped 210% over prior-year levels but remain down 25% compared to 2019.
After last year's stockpiling, retail food sales are starting to normalize. Placer.ai reported grocery store visits fell 8% in the first quarter of 2021. Seasonal activity is likely to give transactions a boost in the second quarter. But analysts say sales won't jump as high when compared to the same period in 2020.
Analysts expect the rebalancing between restaurant and grocery sales to continue through 2021. A study by Revenue Management Solutions found 45% of people plan to eat out the same amount as before the pandemic, while 32% plan to dine out more. In contrast, UBS is forecasting full-year grocery sales will decline 5% versus 2020.
Today's Special
Grain market prices are off to the races with nearby corn contracts hitting $7 per bushel and soybeans flirting with $15.50 per bushel. And analysts are calling for continued strength throughout 2021, supported by heavy export demand – particularly out of China – along with the threat of dry conditions this crop year and overall tight supply.
Rising grain prices will hit dairy producers in 2021 via higher feed costs. Based on current futures, Dairy Margin Coverage program estimates say average 2021 feed costs could jump to $11.70 per hundredweight, peaking for the year in May at $12.90. That's a $3 jump from the 2020 average and, if realized, would be the highest annual feed cost going back to 2013. Though the USDA calculations do not necessarily reflect real time pricing out in the country, recent reports suggest that producers – particularly those in the west that generally have more exposure to purchased feed – are beginning to see some of those higher costs hit. And basis is quickly increasing.
Rising feed prices are ultimately dragging down margin expectations. Dairy Margin Coverage estimates peg 2021 margins at around $7.60 per hundredweight, according to current futures values. That's down about two dollars from 2020 and the lightest potential margin going back to 2018.
With about 70% of US producers signed up for the Dairy Margin Coverage program for 2021, some protections are in place – especially for those with $9.50 per hundredweight coverage. Producers with $9.50 coverage on their first 5 million pounds of milk should receive a net payout of around $3.00 per hundredweight on average for the first quarter. And payouts could continue through the second and third quarters. That could help provide at least some margin protection for producers if grain prices remain elevated.
Take a deep dive into grain markets on this week's episode of The Dairy Download. Guests Steve Freed of ADM Investor Services and Robert White of the Renewable Fuels Association explain how booming exports, dwindling stocks, rising inflation, and increased ethanol use stand to impact the dairy industry. Listen here or on your favorite podcast app.
Something Sweet: Milk Production Minute