Read the latest issue of The Dairy Bar, a bi-weekly report from IDFA partner Blimling and Associates, Inc., a dairy research and consulting firm based in Madison, Wisconsin. The Dairy Bar features spotlight data, key policy updates, and a one-minute video that covers timely topics for the dairy industry.
The Dairy Bar: Restaurant sales on the upswing; Inflation inching higher; U.S. trade in a minute!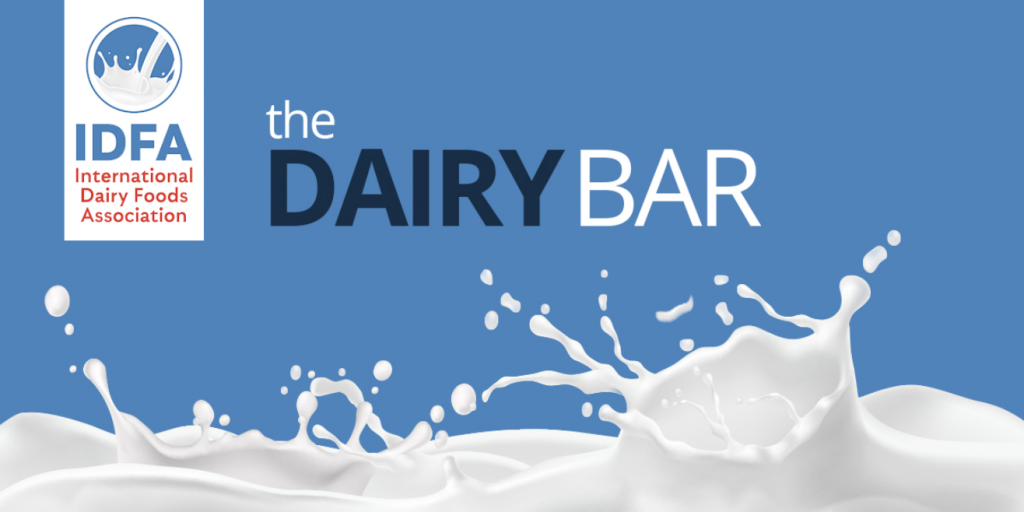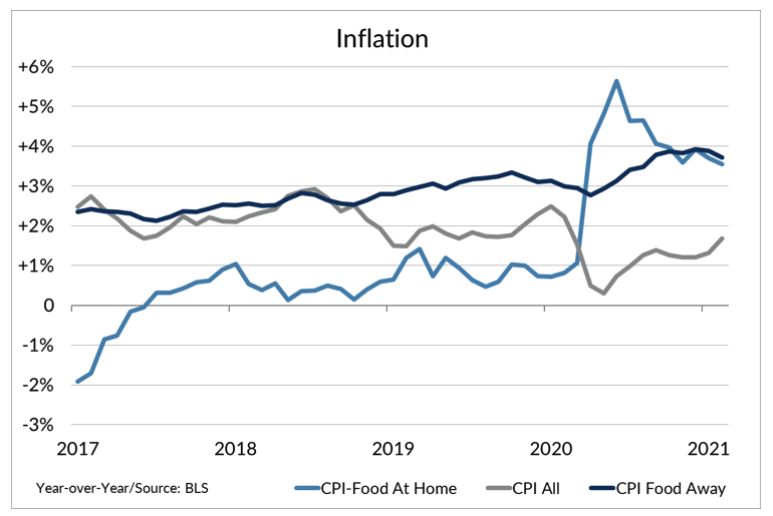 Quick Bites: Inflation Keeps Inching Higher
U.S. consumer prices rose 0.4% between January and February, the largest gain in six months and taking the index up 1.7% year-over-year. And analysts say inflation could push even higher as Americans pocket another round of stimulus payments.
A 6.4% jump in gasoline prices boosted overall inflation. A recent survey by AAA showed gasoline increased by 31 cents in February to a national average of $2.77 per gallon, supported in part by increasing travel and rising crude oil values.
Food inflation, on the other hand, rose at a slower pace. Food-at-home prices climbed 0.2% month-over-month, while food-away-from-home increased by 0.1%. Inflation is still running well above prior year levels though, with food-away-from-home up 3.7% from February 2020, while food-at-home was up 3.6%. USDA is forecasting food prices will see lower rates of inflation this year versus 2020 as producers rebuild stockpiles of agricultural goods. And as dining restrictions loosen, consumers are expected to eat more restaurant meals, which could potentially ease pressure on grocery store prices.
President Biden last week signed off on a $1.9 trillion stimulus package that includes direct payments of $1,400 to $2,800 to a lot of individuals and families. A survey by the U.S. Census Bureau shows a majority of Americans – 58% – plan to spend at least some of the money on food. About 11% plan to refresh their wardrobes with new clothes, 6% will spend on home furnishings, and 3% say they will buy recreational products like sports and fitness equipment.
Today's Special
As pandemic restrictions roll back across the country, more Americans are heading out for a bite to eat and an opportunity to not do any dishes. Restaurant sales fell just 0.4% year-over-year during the week ending March 8, the best showing in over a year, according to data from Rally for Restaurants. But that compares to fairly soft sales during the same period in 2020, when revenues declined by 23.4%.
Still, data suggest consumers are increasingly comfortable dining out, whether on a patio or in a dining room. During the week ending March 8, 68% of restaurant meals were eaten on-premises, the largest percentage since mid-October.
Restaurants are likely to benefit from this latest round of stimulus checks. A report by Bloomberg Intelligence shows a previous round of $600 payments helped lift sales by 3% at casual dining concepts and 5% at quick-service chains over three weeks. Estimates suggest the new $1,400 payments will boost sales by mid-single digits for seven weeks.
But even as dining rooms reopen, consumers are still ordering plenty of food to go. Yum Brands, which owns Taco Bell, KFC and Pizza Hut, topped expectations with its fourth quarter earnings thanks to strong off-premises consumption. On the other hand, Ruth's Chris Steak House, which relies primarily on in-person dining, saw its Q4 revenue fall nearly 43% year-over-year.
With restaurant sales on the upswing, data still point to healthy retail sales. Persons familiar with scanner data suggest purchases of cheese and butter each rose by nearly 15% year-over-year in February. The question now: As more Americans flock to restaurants, will grocery store traffic start to decline?
Something Sweet: U.S. Trade Minute