Read the latest issue of The Dairy Bar, a bi-weekly report from IDFA partner Blimling and Associates, Inc., a dairy research and consulting firm based in Madison, Wisconsin. The Dairy Bar features spotlight data, key policy updates, and a one-minute video that covers timely topics for the dairy industry.
The Dairy Bar: Trade Special – What Pushed Exports To $6.5 Billion?; Milk Production In A Minute; and Butter Consumption Up While Cheese Down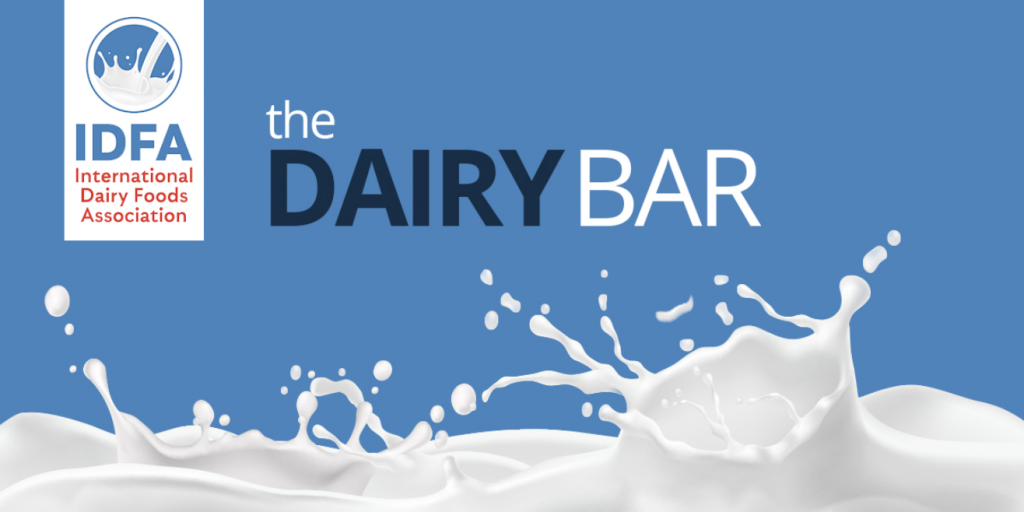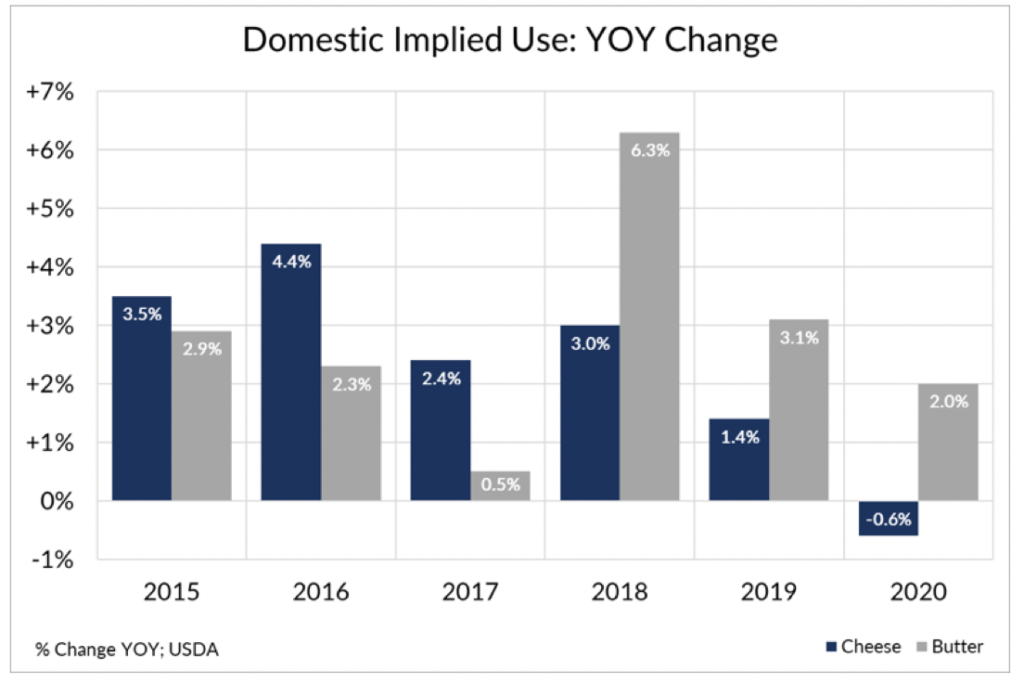 Quick Bites: A Bit More Butter (And Less Cheese)
As pandemic restrictions kept diners at home for most of 2020, more Americans fired up their stoves and ovens for homecooked meals. While shuttered dining rooms dealt a blow to dairy demand, retail sales helped pick up some of the slack as consumers purchased ingredients for casseroles, cookies and a variety of dishes in between.
With the lowest butter prices in years, retailers aggressively promoted quarter sticks to get product in the hands of eager bakers. Scanner data for 2020 showed a nearly 20% year-over-year jump in retail sales of butter. That ultimately helped to offset the loss of butter demand through restaurant channels. Estimates suggest total domestic butter consumption for 2020 increased by 2.0% or roughly 42 million pounds versus 2019. That's enough to bake more than a billion chocolate chip cookies.
Lost food service and institutional orders delivered a bigger hit to cheese demand. Though retail worked to fill in the gap, a roughly 10% gain in natural cheese sales wasn't enough. Overall domestic consumption declined by 0.6% or 77 million pounds in 2020 compared to the previous year – enough to top about 154 million pizzas.
But early indicators show healthy grocery sales in January. Persons familiar with scanner data say natural cheese sales rose roughly 10% year-over-year, while purchases of butter and butter blends increased nearly 15% over prior-year levels.
Today's Special
2020 threw a lot of curveballs at U.S. exporters with COVID-related headaches to start the year and more than a few trade policy issues throughout. But despite the noise, U.S. exports pushed up to $6.5 billion, up 9% year-over-year.
NDM/SMP exports made a big splash with dollar sales up to $2.0 billion, a 22% hike from 2019 levels. Surging demand out of Southeast Asia supported much of that growth. Sales to the region blossomed to $815 million, a 55% increase year-over-year as the US displaced SMP supply coming out of Europe. Meanwhile, our biggest trading partner, Mexico, stayed more-or-less on the sidelines with shipments totaling just $708 million, down 9% from the year prior as COVID hit the Mexican economy particularly hard.
Record outbound cheese shipments through mid-2020 provided a boost to U.S. exports as well. Total cheese exports reached $1.6 billion, rising nearly 4% year-over-year, supported in part by a 13% increase in sales to South Korea, reaching $270 million.
China is back as the big buyer of U.S. whey products after a few years in trade policy purgatory. U.S. exporters moved a total of $284 million in whey goods to China in 2020, 66% more than the year prior, marking the highest dollar value since 2017. China's efforts to rebuild its hog population and feed stocks coming off herd-decimating African Swine Fever outbreaks helped to drive the growth in U.S. dry whey shipments. Total dollar sales across the dry whey category more than doubled to $77 million.
The big question now: is that growth repeatable in 2021? Possibly, but there will likely be more than a few hurdles to expansion this year. Despite competitive prices across many commodities, exporters are already facing challenges, such as container shortages and ocean logistics issues stifling the movement of product across the water – especially into Asia. At the same time, uncertainty surrounding economic recovery across much of the globe could impact overall demand appetites. And then there's trade policy concerns. Whether it's heartache over USMCA rules enforcement, unknowns around the future of U.S. and China trade policy under the Biden Administration, China's stockpiling efforts, or non-tariff barriers like health certificates, U.S. exporters have work ahead to keep growing the export pie in 2021.
For more information on U.S. trade dynamics or policy, please contact Becky Rasdall, Vice President, Trade Policy and International Affairs at brasdall@idfa.org.
Something Sweet: The Milk Production Minute