Read the latest issue of The Dairy Bar, a bi-weekly report from IDFA partner Blimling and Associates, Inc., a dairy research and consulting firm based in Madison, Wisconsin. The Dairy Bar features spotlight data, key policy updates, and a one-minute video that covers timely topics for the dairy industry.
The Dairy Bar: Holiday Digital Retail Sales Surge; Ag Aid in a New $900 Billion Stimulus Package; and Butter & Cheese Stocks in a Minute.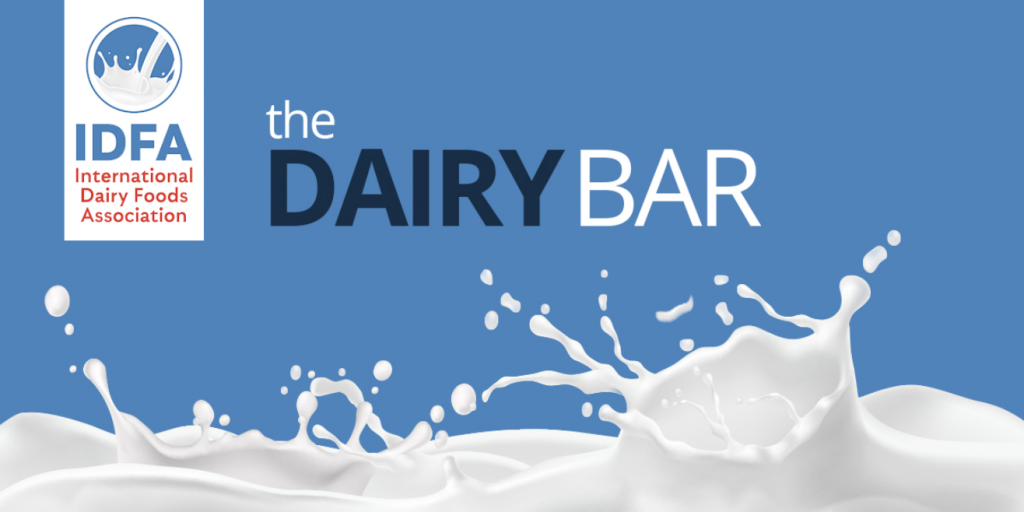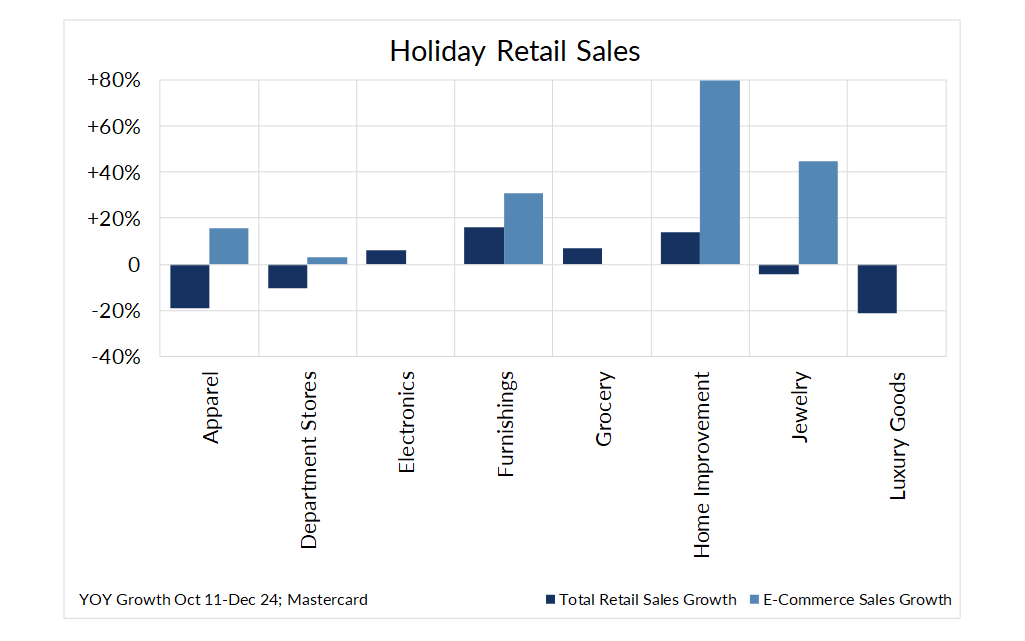 Quick Bites: Happy (Digital) Holidays
Fewer presents, skimpy decorations and smaller feasts. Americans greeted the earliest, traditionally busiest days of the shopping season with a bit of a "bah humbug," but came back for more later, especially online. The National Retail Federation reported 186.4 million shoppers purchased gifts during the five days between Black Friday and Cyber Monday, down from 189.6 million the year prior. The average receipt also fell to $311.75, a $50 decrease versus 2019.
But special deals and incentives – including a delayed Amazon Prime Day – spurred a surge of digital purchases over an extended holiday season, according to a report by Mastercard. Online sales rose 49% year-over-year between October 11 and December 24, spurring a 3% increase in total retail sales during that period.
Shoppers continued to channel their money into the place where they have been spending the most time: home. Sales of home furnishings rose 16.2% year-over-year, fueled by a 31.0% jump in e-commerce purchases. Home improvement followed close behind, with a 14.1% boost in total sales and a 79.7% jump in online purchases.
Grocery stores saw more modest growth, with total sales rising 6.8% and e-commerce holding flat. But persons familiar with scanner data suggest dairy enjoyed strong holiday demand. Natural cheese purchases increased roughly 10% year-over-year in November and December, while sales of butter and butter blends increased more than 5% during both months.
Today's Special
The 2020 holiday season brought new agricultural aid wrapped up in a $900 billion stimulus package. But details are far from complete, complicating comprehensive analysis of the impact on dairy markets.
Here's what we know so far: a sizable chunk of the funding is earmarked for food aid. USDA announced this week plans to spend $1.5 billion to fund another round of the Farmers to Families Food Box program, with deliveries planned for January to April. The boxes will continue to include a variety of goods, including produce, meat and dairy products, and seafood products will also be included in this round. USDA in its press release reaffirmed that a variety of cheeses beyond cheddar – from gruyere to parmesan to muenster – are all fair game to fill boxes.
Additional money will go toward increasing SNAP benefits by 15% through June 2021. Another $400 million is designated for the Emergency Food Assistance Program and will assist food banks and pantries. And roughly $175 million is allocated for nutrition programs that fall under the Older Americans Act, such as Meals on Wheels.
Specific to the dairy industry, the bill also designates $400 million for a dairy donation program and $3 billion for direct payments to cattle, poultry and dairy farmers.
But dairy market participants are still waiting for more clarity around other programs and funding. Lawmakers and government leaders have not yet released details on how purchases or reimbursements will work under the donation program. And a part of the measure allows the Secretary of Agriculture to enact a dairy recourse loan program at his or her discretion. But whether the program will get the green light – and what funding will be allotted – is still unclear.
News about food boxes, and speculation around additional purchases of cheese, milk, butter and other products, have fueled price volatility over the past few weeks, particularly for cheese and Class III futures.
For more information on the stimulus measure, please contact Donald Grady, Director of Legislative Affairs, at dgrady@idfa.org.
Something Sweet: Butter and Cheese Stocks