Read the latest issue of The Dairy Bar, a bi-weekly report from IDFA partner Blimling and Associates, Inc., a dairy research and consulting firm based in Madison, Wisconsin. The Dairy Bar features spotlight data, key policy updates, and a one-minute video that covers timely topics for the dairy industry.
December 15, 2020: The Dairy Bar: Online Grocery Sales on the Rise; Container Rates Soaring Along Busiest Ocean Trade Routes; and the 2021 Countdown in a Minute.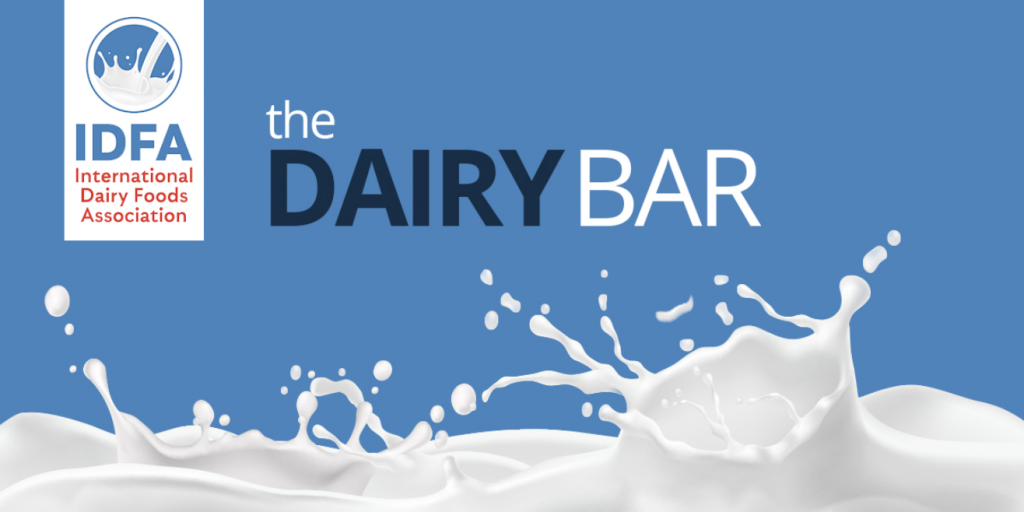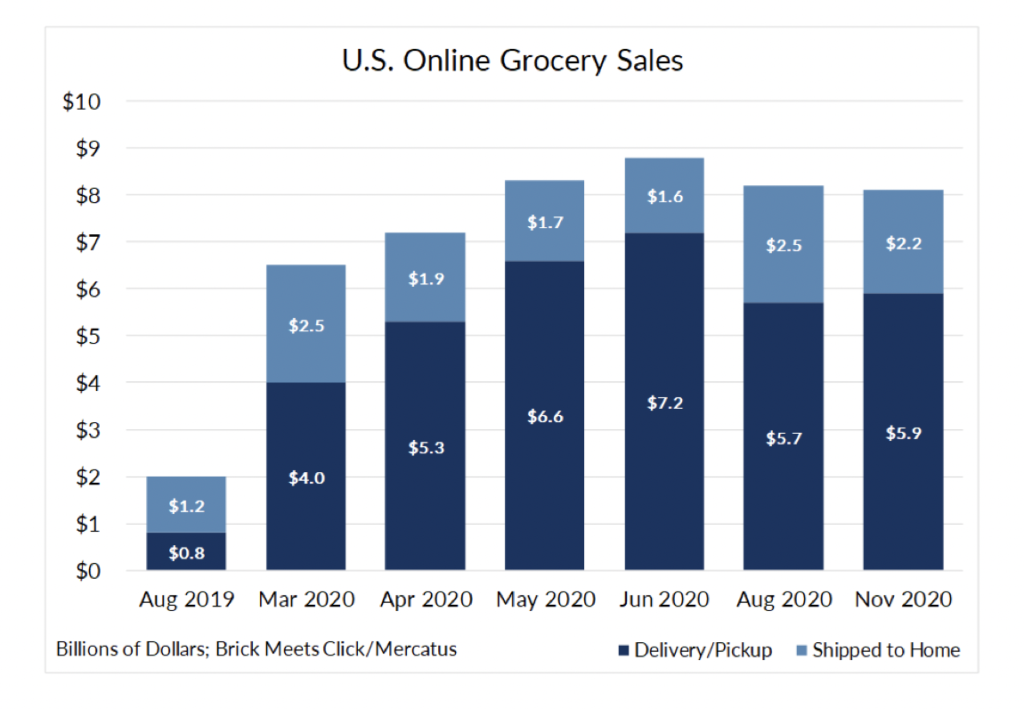 Quick Bites: Click, Collect, Deliver
Consumers are flocking to grocery stores, but some are not even going inside. Instead, they are ordering online, accessing dramatically improved and more prevalent click-and-collect, delivery and shipping capabilities. According to data from Brick Meets Click and Mercatus, online grocery sales now top $8 billion, four times higher than year-prior levels.
According to reports, 38.7 million households used the option last month, a 3% increase from August. To put that into perspective, 30% of U.S. households ordered groceries online in November.
Analysts expect the trend toward online ordering – specifically for delivery or pickup –to continue. In the Brick Meets Click/Mercatus survey, 83% of respondents said they were extremely or very likely to use the service again within the next 30 days. That's up eight percentage points from August and 40 points from March. Similarly, figures show delivery and pickup orders made up more than 70% of online grocery sales in November.
Though dairy is highly perishable and can be tricky to ship and deliver, Americans are still placing plenty of orders for milk, butter and other products. Data by Nielsen shows online sales of dairy rose 121% year-over-year in October.
Today's Special
Last year, ten days out from Christmas, mall parking lots were full, and stores were jam-packed with people. This year, those parking lots have lots of spaces, while logistics companies are the ones feeling the holiday crush. Reports show reefer and dry van rates reached record levels in late November as carriers struggled to keep up with rising demand. And those trends are continuing into early December as the gift giving season fuels a jump in online orders. Recent data from DAT Solutions shows spot dry van rates at $2.51 per mile, up 29% from last year, and reefers at $2.70 per mile, a 17% increase versus 2019.
But new reports suggest a cool down in prices per mile may be just ahead as supply catches up with demand for haulers. One wildcard: Spot markets could go right back up in the coming months as drug companies look for refrigerated trucks to transport their COVID vaccines at temperatures well below freezing.
Meanwhile, container rates along the busiest ocean trade routes are soaring. Data from the Shanghai Shipping Exchange shows the price to ship a 20-foot container from Asia to Europe hit $2,091 in early December, the highest level in more than a decade. Rates in the U.S. soared even higher to $4,000 per container for a shipment between China and the West Coast.
Reports suggest shipping companies are rushing to keep pace with a strong demand for Asian imports ahead of year-end holidays. Many shippers are rushing to unpack and return containers to China for new loads.
That's causing a shortage in capacity for U.S. exports of soybeans, lumber, cotton and other agricultural goods. And according to some reports, producers have little time to move their products to ports before empty containers sail back to Asia.
The Federal Maritime Commission is currently investigating whether shipping lines are preventing the movement of U.S. farm goods by holding back containers needed to move those products. In the long run, bottlenecks at the ports of Los Angeles, Long Beach and New York could have a negative impact on U.S. trade growth.
For more information on transportation matters, please contact Donald Grady, Director of Legislative Affairs, at dgrady@idfa.org.
Something Sweet: The 2021 Countdown with Phil Plourd