Read the latest issue of The Dairy Bar, a bi-weekly report from IDFA partner Blimling and Associates, Inc., a dairy research and consulting firm based in Madison, Wisconsin. The Dairy Bar features spotlight data, key policy updates, and a one-minute video that covers timely topics for the dairy industry.
December 7, 2020: What Does RCEP Mean for Dairy?; Turkey Wednesday Sales Down; and Global Milk Supply and Exports in a Minute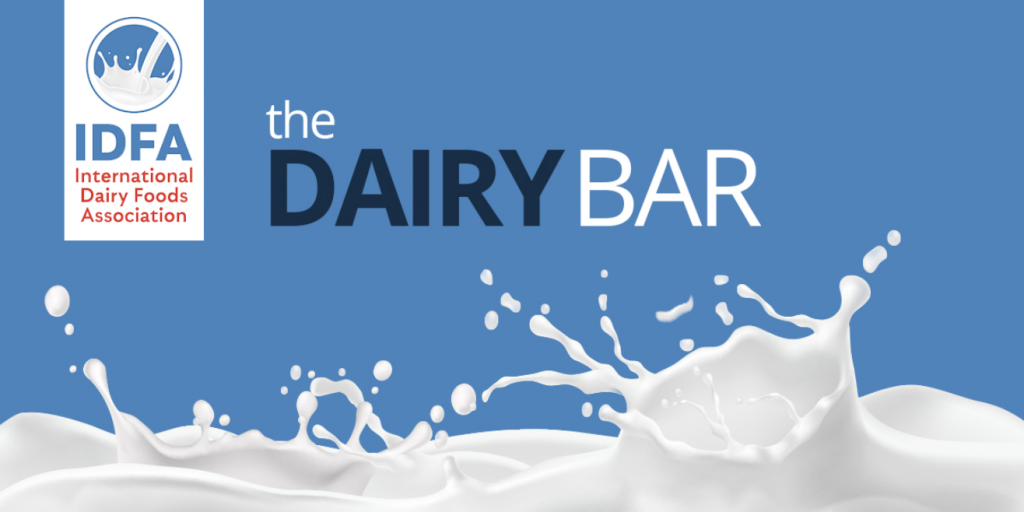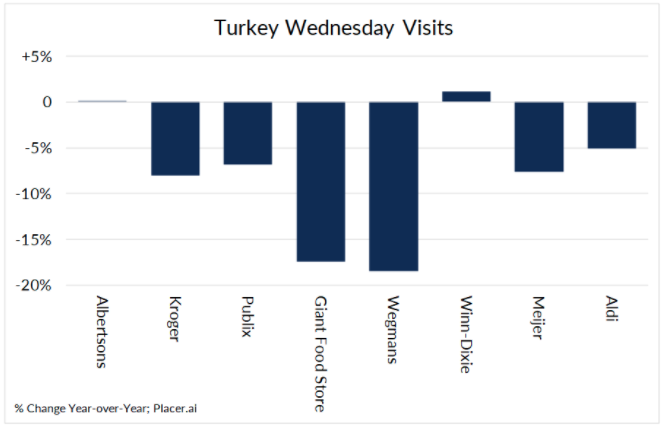 Quick Bites: Gathering 'Round the Table
Early reports suggest COVID-19 spurred record online sales during the Thanksgiving holiday. But it was a different story for brick-and-mortar shops – particularly grocers – as consumers picked up fewer last-minute ingredients for Thanksgiving meals. Placer.ai reported eight of the largest supermarket chains saw an average sales decline of 19% year-over-year on "Turkey Wednesday."
Not only did shoppers make fewer trips to the store, they likely also spent less on food this Thanksgiving. A survey by The American Farm Bureau Federation priced a Thanksgiving feast for 10 at $46.90, down $2.01 from last year to the lowest level since 2010. That was fueled in part by a lower price tag for turkey, which averaged $1.21 per pound this year, down 7% from 2019.
With pandemic restrictions limiting get-togethers, some consumers skipped traditional holiday cooking and opted to order in. A survey by Tripleseat found 30% of consumers planned to cater their Turkey Day dinners, and concepts like Boston Market benefitted. The company reported sales of "banquet meals" – which can feed up to eight people – rose 172% by the Wednesday before Thanksgiving. Still, overall restaurant sales fell 35% below prior-year levels on Thanksgiving day, and tumbled further to -82% the Friday after, according to data from Rally for Restaurants.
Today's Special
Over the course of just two short years, two major multi-lateral trade agreements have been completed … all without U.S. participation. First was the Comprehensive and Progressive Agreement for Trans-Pacific Partnership (CPTPP), which was signed in 2018 and, most recently, the Regional Comprehensive Economic Partnership (RCEP), which was finalized just a few weeks ago. So, what exactly is the new trade agreement on the block – RCEP – and what would it mean for the U.S. dairy industry?
The Regional Comprehensive Economic Partnership is the largest global free trade agreement, covering a third of GDP and population. The partnership encompasses the Association of Southeast Asian Nations (ASEAN) – Brunei-Darussalam, Cambodia, Indonesia, Laos, Malaysia, Myanmar, Philippines, Singapore, Thailand, and Vietnam, as well as Australia, China, Japan, South Korea, and New Zealand. And if India decides it wants to join, members are keeping a seat available.
While this agreement does modestly improve access for dairy – particularly into Indonesia – for the most part, the ASEAN trade group already has free trade agreements in place with the key dairy exporting regions like New Zealand and Australia.
One of the key objectives of RCEP is to modernize and level set the playing field for trade within the region. By creating a single set of rules, importers and exporters should see a reduction in non-tariff barriers and streamline processes for trade. For instance, dairy exporters in New Zealand and Australia today wade through a patchwork of regulations from existing bilateral trade deals. This agreement's commitments should create procedural consistency across the fifteen countries, which would make the exporter's job that much easier and efficient.
What does the signing of RCEP mean for the U.S. dairy industry? This agreement does not dramatically change access for dairy trade within the region. That's good news for U.S. dairy's competitiveness. But process improvements and consistent regulations could very well enhance New Zealand's and Australia's relationships with and access to dairy importers within the partnership. Plus, zero participation in Asia-Pacific trade deals over the past several years will pressure the United States to swiftly re-engage in negotiations of our own in the region. Said another way, there's limited short term impact to the signing of RCEP for the U.S. dairy industry, but this agreement will make gaining favorable access into Asia that much more difficult.
For more information on U.S. trade and trade policy, please contact Becky Rasdall, IDFA's VP of Trade Policy and International Affairs at BRasdall@idfa.org.
Something Sweet: Global Milk Supply and Export Implications